Senior Send-Off Celebrates Class of 2023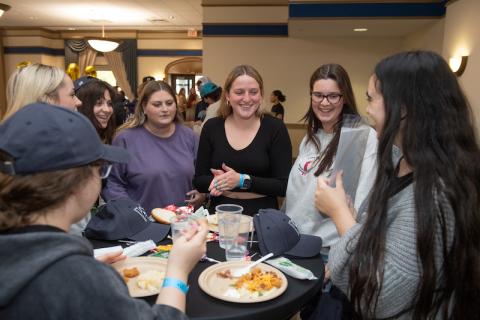 Providing opportunity for last hurrah, the Class of 2023 ended the year with a bang at the Senior Send-Off on May 4. While the threat of rain drove the party into Scanlon Banquet Hall, the class who spent many of their Westfield State years adapting to online classes and pandemic restrictions, didn't seem to miss the food trucks and lawn games as they adapted again, bringing their tents and corn hole sets inside for the night.
According to Bill Connor, Class of 2023 Advisor, "This is a special class. I've enjoyed being with them each step of their Westfield State journey and the Senior Send Off was another special night to celebrate their achievements and their friendships. It was fun to see them enjoy their favorite treats from Dining Services and let loose after they completed their academic work."
At the event, attendees were able to have caricatures made, enjoy cotton candy,  beach-themed games, and of course, take home Westfield State swag so they can continue to represent the school with pride. A raffle offered prizes such as coffee makers and blenders, perfect for setting up the graduates' new apartments as they prepare to enter the workforce or start graduate school.
"Senior Send-Off was bittersweet," said Class President Mikayla Evans. "We had a great time with our friends but we also knew it was one of the last times we'd be able to gather together like this. Having an outdoor beach-themed party inside Scanlon Hall was perfect for our class as our time at Westfield State has been unusual. We were freshmen when we were sent home for the pandemic and now I am so proud of where we've come as a group and individually. Our college years may not look like anyone else, but we've still learned a lot and made great friends along the way. Senior Send-Off was the perfect night to celebrate those friendships."
The Undergraduate Class of 2023 will celebrate Commencement at the Mass Mutual Center in Springfield on Friday, May 19 at 12:00 p.m., while the Graduate Class of 2023 will celebrate at the Woodward Center on Wednesday, May 17 at 6:00 pm. Both ceremonies will be livestreamed.
See the full photo gallery online.