State Rep. Bud Williams '73 receives Westfield State Distinguished Alumnus Award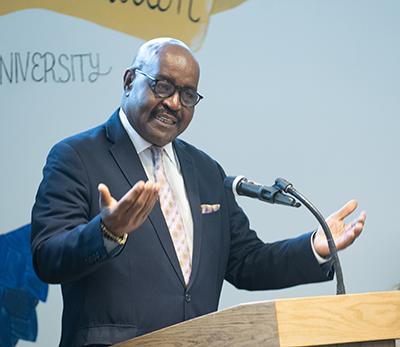 Westfield State University honored State Rep. Bud L. Williams '73 with the 2021 Distinguished Alumnus Award during its annual homecoming festivities in October. 
The Distinguished Alumnus Award is bestowed upon Westfield State graduates who have set themselves apart in professional and community service. 
Williams was chosen as this year's recipient because of "his commitment to advocating for improvement in the lives of those he represents, emulating the spirit of Westfield State's core values, and serving as a positive example to the University's alumni community," according to Ryan Meersman, Westfield State's associate director of alumni relations.
A lifelong resident of Springfield, Williams graduated from Westfield State in 1973 with a B.S. in education. He was a member of the men's basketball team and a college campus leader. After graduation, Williams taught at Homer Street School in Springfield, where he also mentored underserved and low-income inner-city students. Later, he earned an M.Ed. from the University of Massachusetts Amherst. 
Williams is serving his third term as state representative of 11th Hampden District, which includes parts of Springfield. In the House of Representatives, he is vice-chair of the Massachusetts Black and Latino Legislative Caucus; an appointed member of the House Committee on Ways and Means, the Joint Committee on Economic Development and Emerging Technologies, the Joint Committee on Ways and Means, and the Special Joint Committee on Redistricting.
"Representative Williams has dedicated his life to public service since graduating from Westfield State," said Scott Liberman, president of the Westfield State Alumni Association. "He has used his platform to mentor young people, bring light into lives who needed positive redirection, and to advocate for equity in the resources his constituents need to live healthy, happy lives." 
Prior to his election in 2017, Williams served as Springfield city councilor, from 1993 to 2008 and again from 2011 to 2017. He is also an adviser to MOCHA (Men of Color Health Awareness).
Bud and wife Gloria Williams '77, a member of the Westfield State Board of Trustees, reside in Springfield. They raised two children, Keisa and Kamari, and have three grandchildren.