Student Profile: Desiree Eickel '11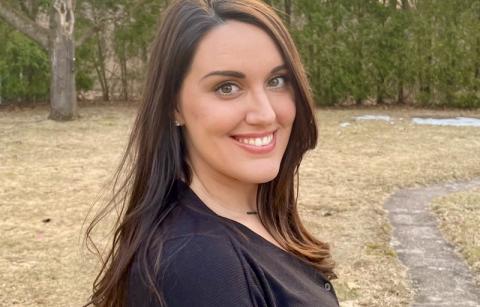 Graduating from Westfield State University in 2011 with a degree in elementary education, Desiree Eickel then set her sights on public school teaching. She spent six years as a 2nd grade teacher at Milton Bradley Elementary School in Springfield before stepping out of the classroom to take on a new role.
In 2019, Eickel began working as a Reading Interventionist and Effective Educator Coach at the same school. She also returned to Westfield State to become a candidate in the Reading Specialist Program so that she could better support her students and supplement her experience with additional, effective methods of teaching.
"I love working with small groups of students" she said. "That's something I'm super passionate about because I feel that you can really support them in smaller groups and better meet their literacy needs. I love seeing the growth my students make every year. That is why I wanted to focus more on reading intervention. I wanted to support more students to meet literacy proficiency. I knew a specialty would help me to do that and reading stood out to me because I enjoy it. I also wanted to support all my students to have a love of reading."
Eickel described the program as "authentic", citing the professors as sources of help and inspiration while she completed her studies. "I felt supported the whole time. If I had questions, if I was struggling, someone was always available. The classes were flexible and accommodating. If you needed extra time for something, the professors were willing to sort it out with you."
Eickel also felt that the smaller, more intimate program setting made for a deeper, more intentional level of learning. The two practicums required by the program is where she experienced the most transformation, as she gained "valuable" tools that would enable to better connect with her students. Part of this was approaching the students with a different mindset.
"Through the program, I gathered a lot of knowledge on how to support students, but also how to coach teachers. This was valuable because the best teaching practices have such a big impact on student growth. The reading specialist program at Westfield State University instills values in their candidates that I think are so important for impactful literacy coaching. Building trust, communication, and self-reflection with teachers are just a few values I learned in the program. I also learned about taking on a support role with mentee teachers and not being evaluative. That is so important to help teachers authentically grow in their practice."
Overall, Eickel greatly endorsed the program, crediting both its theoretical and practical applications of teaching methodology to her newer perspective on what it means to be available for her students. "The whole purpose of me going into education was to support students and impact their future in a positive way," she stated. "I think this program gives you the tools you need to support students and teachers to be the best they can be. The program truly helped me build the skills needed be a more impactful teacher and coach."