Students Celebrate Graduate, Undergraduate Commencement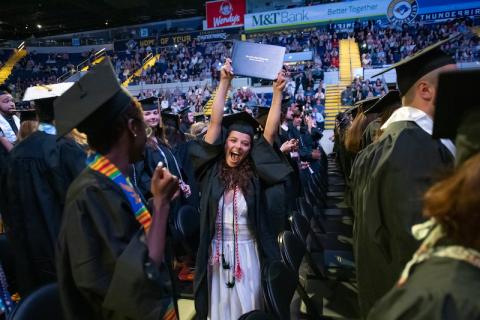 The Undergraduate Commencement Celebration was held on Friday, May 19, at the MassMutual Center in Springfield at 12 p.m. The Graduate Commencement was held on May 17, at the Woodward Athletic Facility at 6 p.m.
At the Undergraduate ceremony, President Linda Thompson began proceedings with remarks of her own. "Please know that your hard work, effort, and dedication are seen both by your professors and the administration at large," she said.
"Each graduate who has gathered here has achieved success in reaching the high standards of our esteemed faculty. You should be proud of all that you've accomplished. We can't wait to witness your future successes. Please remember, you will always have a home here at Westfield State University. I wish you all the best."
Class President, Mikayla Evans, started her address by taking selfies with the audience, advice given to her by the former class president. She then thanked friends and faculty for all their help in navigating their education during the pandemic.
"While we never anticipated having many of our most crucial classes for our Bachelor degree online, I think it shows the perseverance of every person sitting in front of me today. We managed to succeed under surprising and often stressful circumstances," she said. Evans elaborated on the numerous struggles the students faced throughout the entirety of COVID, and she praised the class for their resilience, calling for each individual to chase their dreams regardless of the circumstances.
"Each of us are about to set out to do what we are most passionate about. Wherever you are headed next, when you leave here today I want you to remember to stay focused on what you are passionate about, to always chase your dreams, and to remember the strength you have already built as you find the light in overcoming challenges. It is the light, your very own, that will guide you into your future. Thank you, and congratulations class of 2023."
Meanwhile, the commencement address was delivered by alumus, James Jackson Jr., who graduated from Westfield State in 1997 with a major in Music Education. "This is a tremendous honor for which I am deeply, deeply grateful," he began. "I cannot wait to see what all of you do. To the Westfield State University graduating class of 2023, I wish you luck, I wish you well, I wish you friendship, and I wish you oh, such a beautiful journey. I thank you, and good afternoon. Congratulations, graduates."
Steven P. Marcus, another alum, received an honorary degree for his life-long dedication to community wellness and healthcare. Also, for his numerous contributions and successes, including being the CEO and founder of developing New England Geriatrics, New England and West Central Family and Counseling, as well as a New England hospice center, he was awarded a Doctorate in Public Service.
Following this, three students were recognized and given certificates for academic success in achieving a 4.0 grade point averages. Samantha Nora Biseinere, Cameron D. Ganong, and Alyssa Danielle Ray were the recipients of these awards. An additional award was given to the salutatorian, Emily Grace Fluet.
Graduating students then received their respective degrees, rotating their tassels in honor of their transition from student to alumni of Westfield State University.
Megan Bishop, class of 2013, and Levi Ekstrom closed the ceremony, reiterating the accomplishments of the students and encouraging graduates to keep in touch with the university. "I encourage you, stay engaged, stay involved, and stay active," Megan told the class of 2023. "Know that Westfield will always be home, and you will always be an Owl."
Aaron Lessing, President of the Student Government Council, opened Friday's celebration by reminding students to always remember their experiences at Westfield State.  
"Remember the growth you experienced while here. Remember the friends and community you had while here. But, most importantly, remember the moments that made you, you. Soak in these last moments as a student soon to be alumni, celebrate this moment with those that helped you get here, and take with you the lessons you learned at Westfield State."
Graduate Commencement, held at the Woodward Athletic Facility on May 17 featured keynote speaker, Massachusetts Higher Education Commissioner Noe Ortega. Ortega reminded students to focus on their own individual achievements and dismiss the urge to compare yourself with others.
"Everyone's journey is going to differ," he said. "Your journey is going to full of challenges and accomplishments. Resist the temptation to compare your journey with someone else. This is going to be extremely important when you take the next step."