University Chorus to showcase performance that extends sense of belonging, humanity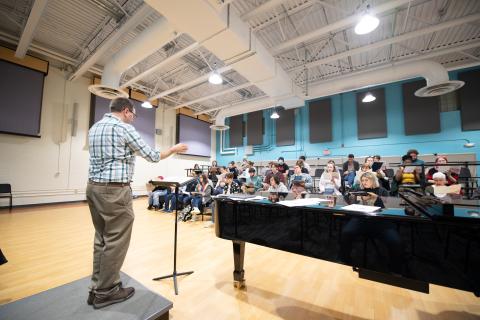 Temporarily shuttered by the pandemic, community choirs are back in action and looking to attract those who love to sing and be inspired by creative collaboration. 
While singing in a group can be fun and uplifting, participating in a choir can also be beneficial to your health. A study by the University of Oxford indicates singing contributes to a sense of well-being and happiness. Other studies reveal active participation in music can make people feel more positive than they do from passive listening. This can lead to better mental health, say researchers.  
The Westfield State University Chorus is welcoming new members to join their group, which meets Monday evenings in the Dower Center, from 6:30 to 8:30 p.m. 
New members will be accepted until February 13.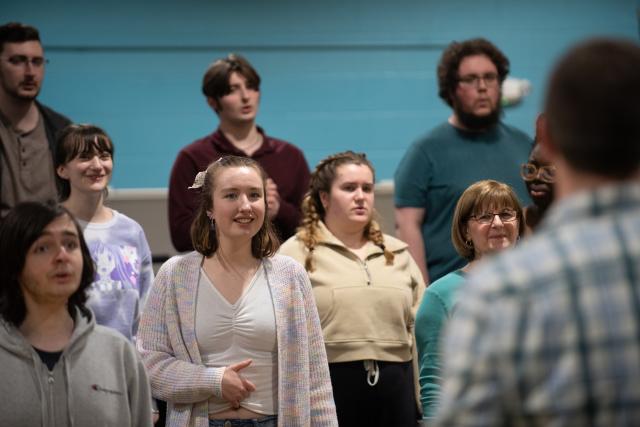 The University Chorus is not just for music majors, members of the community are also welcomed to join.
The results of choir studies indicating better health are not lost on Scott Bailey, staff assistant of music department and collaborative pianist and director of the Westfield University Chorus.
"Choir is a lot about breathing and can be somewhat meditative. Studies have shown meditation can me very beneficial. Participating in choir is also about community, engagement and thoughtfulness which may lead to better health. I think that's what our next concert is going for. A sense of humanity, that we're all on this planet together and looking at the world in different ways."
The April 23 performance of the WSU Chorus will feature Eric Whitacre's "Cloudburst" which Bailey describes as inspired by the composer's experience witnessing a desert cloudburst – and extreme amount of precipitation in a short period of time. Also featured will be Kirke Mechem's  "Island in Space." Baily says this piece sets the words of Apollo 9 Astronaut Russell Schweickart, the first human to complete an unattached spacewalk. 
Bailey is not only welcoming singers to join the choir. Students with talent across disciplines can also contribute to the overall efforts of putting on a great program.  
"It would be nice to have student involvement," Bailey said.  "For instance, I'm looking for a cover design of the program or a poster. It would be lovely to have a student involved in that capacity. Or if somebody had a poem that fits along with our theme which is 'Inner World/Outer World,' either looking inward at humanity or looking out and recognizing the beauty of the world, we would be happy to incorporate that into the program."
Tessa Cacioppo ('23) builds her participation in choir into her coursework and her life, which helps develop friendships and confidence.
"As a budding music therapist, choir is a part of my everyday life. University Chorus provides me the opportunity to hone my skills as a singer, a group member, and a leader," she said. "University Chorus is a safe space where I can explore my vocal abilities with some of my closest friends. Being in the choir has not only provided me with the confidence to sing but has also given me the ability to use my voice loud and proud in any situation put in front of me."
It is commonly accepted that choruses bring about a sense of community due to the collaborative spirt and Bailey accepts that perspective.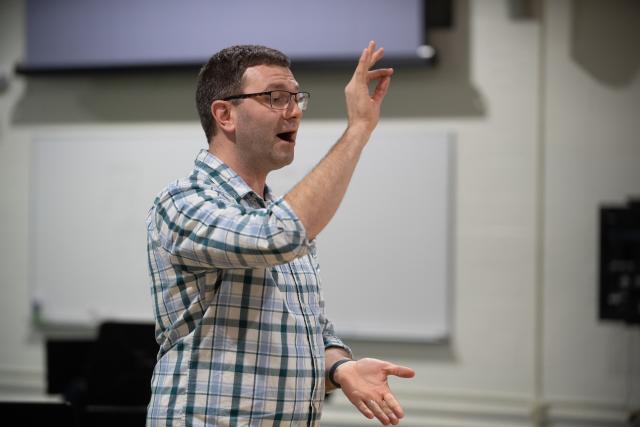 "In a choir we all need to come together as a unit and all voices are important. And it's fleeting. Once a performance is over it will never exist in the same way again. It's an all-encompassing effort with each voice part being important to the musical structure. Every member needs to be engaged and involved for it to really work well."
For those that might love to sing in church, or the shower, and might be hesitant about joining a formal choir, Bailey says to just jump in and do it. 
"Joining a church choir or community choir is great because there are low stakes. You just show up and you sing and learn the music as you go -- either learn how to read it, or pick it up by ear, and these are safe places to do that. The music can certainly be challenging but if you are willing to put in a little effort, have an open mind and open ears, I think anybody can be successful singing in a community choir."
Performance of the Westfield State University Chorus and Chamber Choir:
What: Inner World/Outer World: Music inspired by the world around us, and music that looks inward at our humanity.
Works by Whitacre, Mechem, Powell, Ramsey, Bonacci and more.
Scott Bailey, Conductor.
When: Sunday, April 23, 3:00 p.m.
Where: First Congregational Church of Westfield, 18 Broad Street.