Welcome Week and Events You Won't Want to Miss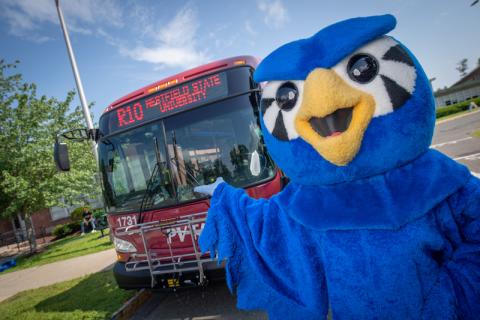 Westfield State University welcomes students back on Friday, September 1, 2023, as the University's first New Student & Transfer Student Move-In day commences. Starting from 8:30 a.m. and lasting until noon, students will officially be able to call campus their home as the academic year inches closer. The second Move-In day is scheduled for Monday, September 4, 2023, and will run from 9 a.m.—2 p.m. Students need to sign up for a 30-minute time block in their MyHousing Account to get started.
Students, both new and returning, also won't want to miss out on this year's upcoming Welcome Week, which features a variety of both formal and informal events for them to participate in. Campus gatherings are at the heart of Westfield State University, so be sure to visit the website for a more comprehensive list of activities taking place between September 1—10, and make sure to attend everything you can before classes kick into high-gear.
Starting off this Friday, on September 1, after Move-In morning, first-year students will celebrate their transition into university life by attending Convocation at 3 p.m. at the Woodward Center to commemorate their new identity as an Owl! As this is their first formal event on campus, students will then be able to relax at the Friday Night Fever event, which will take place on the Campus Green at 8 p.m. With everyone primed to unwind and socialize after such a big day, this is sure to be a great time as people begin to settle into their surroundings. 
On Saturday, September 2, the Campus Crawl will take place from 7:30—10:30 p.m. at University, Dickinson, Courtney, and Davis Halls in conjunction with the Ely Campus Center. The best part is, those who enjoy eating breakfast for dinner will be able to snag their favorite morning food at the Dining Commons after 10:30 p.m., just before the evening begins to level out.
Both the Sunday Smash and Screen on the Green events will take place on Sunday, September 3, on the Campus Green area. While the Sunday Smash starts at 8 p.m., the Screen on the Green will begin at 10 p.m. and will allow for students to come together for a communal viewing party. After all, there's nothing better than a relaxing end to the weekend.
Monday, September 4, will see to a full day of events. From 9:30—12 p.m., students will be able to find Community Engagement Stations at the Ely Campus Center, which will feature a variety of attractions for both new and returning students. Additionally, from 12—5 p.m., shuttles to and from Walmart will meet at Scanlon Hall for those interested in a shopping trip. Meanwhile, at 3 p.m., the Owl Olympics will take place just before the MON-DIY event, which starts at 6 p.m. The night ends with a hilarious comedy show, also at the Scanlon Banquet Hall, which is scheduled for 8 p.m. that evening.
Tuesday, September 5, offers two separate opportunities to get out and socialize. At 9 a.m., commuters will be welcomed at the Commuter Parking Lot over by the Nettie M. Stevens Science & Innovation Center. Later in the evening, at 7 p.m., the Campus Green will hold the Evening Energizers event.
Get ready for a quiet Wednesday, as there's only one scheduled event for September 6. The Wet and Wild Wednesday party will be held on the Campus Green from 4:30—7:30 p.m. As there's going to be a lot of fun and a lot of water, make sure to be dressed in your best summer gear!
Feeling the school spirit? On Friday, Westfield State Owls will be able to cheer on their football team at the First Home Football Game. The game starts at 6 p.m. and will take place at the Woodward Center. Later on, at 10 p.m., Late Night Bingo will be available for all bingo enthusiasts at the Scanlon Banquet Hall.  
The Campus Green will see to a fun-filled Saturday afternoon as the Welcome Weekend Carnival and its subsequent Glow Party will offer tons of attractions as well as opportunities to get out and bond with your fellow Owls. The carnival will run from 2—5 p.m., and the Glow Party will go from 9 p.m.—12 a.m, leaving plenty of time for sleep before the last day of the week begins.
Sunday, September 10, will hold three separate events. Beginning at 1 p.m. and taking place at the Owl's Nest in Ely will be the Cooking Cup, an event for all of those who love the culinary arts. Each residence hall will then sponsor their own event, which will run from 3—7 p.m. before the evening finishes up our Welcome Week with a Game Night, located at the Owl's Nest. The Game Night will begin at 7 p.m. and end approximately at 9 p.m. that evening.
Welcome home, and make sure to check out each of these fantastic events so that you can enhance your time here at Westfield State University!