Westfield State Alumnus, Former Board of Trustees Chair to Receive Honorary Degree at 2023 Commencement Ceremony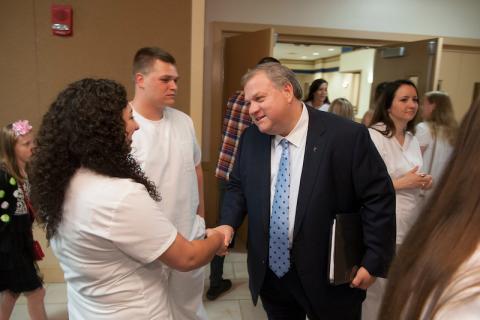 Steve P. Marcus '88, has been selected to receive an honorary degree at Westfield State's undergraduate commencement ceremony for his numerous accomplishments in public healthcare and contributions to the Westfield State community. He will be given a Doctor of Public Service degree.
During his time at Westfield State, he earned a Bachelor of Arts degree before receiving a master's degree in social work from the University of Connecticut in 1990. 
After completing his education, Marcus pursued his passion of working in public healthcare by developing New England Geriatrics, as well as New England hospice. He also was the founder of West Central Family and Counseling, a mental health organization which is now a part of Northeast Health Services in Springfield. These innovative centers were created with a mission to improve the quality of life in all areas—from physical well-being to mental wellness. Marcus is also a licensed social worker trained in psychotherapy.
President Linda Thompson described Marcus as a "visionary," praising his "leadership qualities, strategic thinking, and selfless devotion that benefitted Westfield State on numerous occasions. His dedication and willingness to serve others is a model for us all to emulate." 
Marcus an ordained Maronite Catholic Deacon, has contributed to numerous boards and community organizations including  serving on the Board of Trustees, Ave Maria University, Naples, Fla.; Chairman of the Board of Academy Hill School, Springfield; Academy Trustee, Wilbraham Monson Academy; Board of Governors, Legatus International; Leadership Council, Catholic Near East Welfare Association, a Papal Organization; board member, the Newman Center, University of Massachusetts and board member, Daughters of Mary Nazareth, Boston.
"As I reflect on my experiences in business and public service, the foundation of knowledge acquired at Westfield State provided a solid framework to be a life-long learner," Marcus said about the honorary degree. "The world-renowned faculty and staff at Westfield State made an ever-lasting impression with their teaching, guidance, and counsel. I will forever be grateful to have had the opportunity to return and contribute to the University's mission and build on their values. The class of 2023 has experienced a first-class education and their knowledge and skills will no doubt lead to great things and I wish them the best. May God bless the students, faculty, and staff of Westfield State University."
The commencement ceremony will take place Friday, May 19 at 12:00 p.m. at MassMutual Center in Springfield.