Westfield State celebrates work of faculty, staff, librarians at holiday events; contributes to local food pantry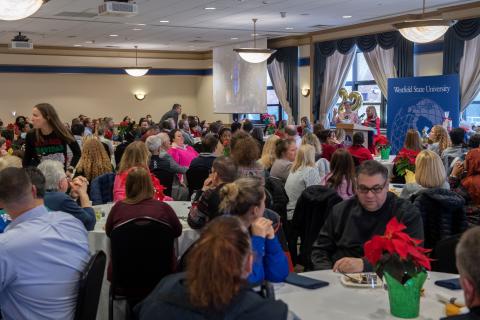 As Westfield State University concludes yet another semester, faculty, staff and librarians gathered at various holiday parties sponsored by the University.
In addition to smaller individual department festivities, Monday, December 19 featured a celebration for all employees on all shifts throughout campus. The day started with a third-shift staff breakfast at 6 a.m., followed by a 11:30 luncheon for first-shift staff including faculty and librarians. Next was a luncheon for second-shift staff at 4 p.m., in the dining commons. An event to celebrate Dining Commons Staff was held on Wednesday, Dec. 21.  The events were catered by Emma's Everyday Gourmet in downtown Westfield. Attendees were encouraged to bring a non-perishable food item to support Common Goods and The Westfield Food Pantry. Those who donated were eligible for a raffle to win a variety of gifts donated from the President's Cabinet.
Last week, Westfield Food Pantry Program Director Melissa Cahalan indicated a shortage of food on their shelves so Tom Convery, staff member in Institutional advancement and coordinator of Common Goods decided all donations from the holiday party would go to the Westfield Food Pantry. Convery indicated Westfield State's food pantry was "in pretty good shape," and the City pantry was more in need.
"We are grateful for the thoughtful donations from our campus community. This year all the donations from our Westfield State Holiday get together were given to the Westfield Food Pantry.  Westfield State continuously rises to the occasion to assist others in need as evidenced by the giant donation recently given to the Westfield Food Pantry," said Convery.
To donate to the Westfield Food Pantry visit: https://westfieldfoodpantry.networkforgood.com
To learn more about Westfield State's Common Goods Pantry visit: https://www.westfield.ma.edu/offices/common-goods
Holiday party held for boards, council
On Tuesday, Dec. 20, WSU held a celebration in the Dower Center hosting the Board of Trustees, Foundation Board of Directors, the Alumni Association Executive Council and other staff and faculty.  The festive occasion was catered by the Dining Commons staff led by director William Connor. Live music was performed by students from the Westfield State Music Department.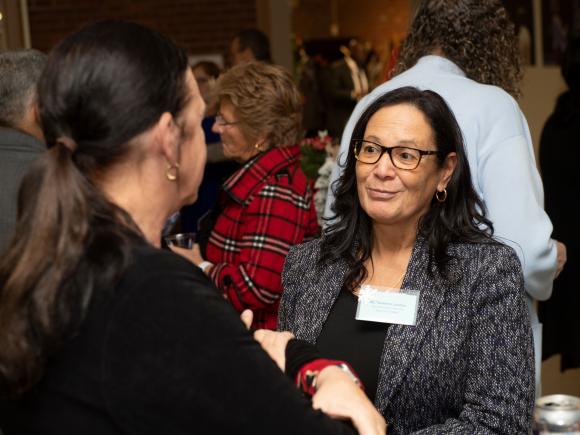 In delivering remarks to attendees, President Linda Thompson praised the work of the boards, staff and faculty, "I am very pleased that we can all be together and celebrate the wonderful work we do for Westfield State University. We all play a vital role that leads to our success, and your time and experiences all translate into the values and mission we strive to uphold."