Westfield State students and faculty attend biennial meeting of Phi Alpha Theta National History Honor Society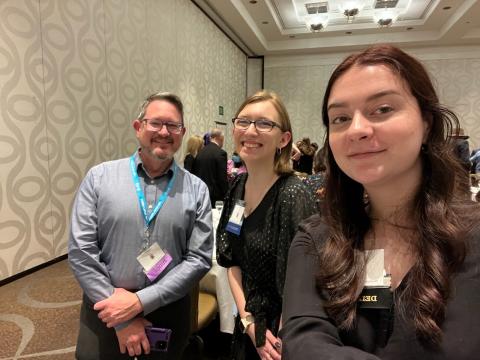 History majors Sumer King ('24) and Paige Freeman ('24) recently represented Westfield State University and the Kappa Omicron chapter of Phi Alpha Theta National History Honor Society at the organization's biennial meeting in Albuquerque, New Mexico.
This four-day conference brings together undergraduate and graduate students with faculty from across the United States to hear research and celebrate student and faculty articles and books. King presented "Feminist Film Tropes of the mid-20th Century and Social Expectations" on Thursday, January 5.
Upon successful completion of her presentation, she remarked, "It was my first conference presentation, so nerves were high, but I am very grateful for the experience and for the opportunity to meet so many people."
Dr. Nicholas Aieta, Westfield State History and Philosophy Department Chair and chapter advisor, chaired a panel on Native American history later that same day. Freeman attended paper presentations and served as the Kappa Omicron delegate for the business meeting conducted on Saturday, January 7.
Freeman reflected, "My favorite part of the experience was getting to sit down at dinner with published history scholars who seemed to be genuinely interested in what we had to offer to the conversation. It was also nice to make friends with students from other schools who share my interests."
King and Freeman were inducted into the Kappa Omicron chapter of Phi Alpha Theta in Spring 2022. This chapter is open to students who take 12 or more credits of history course at Westfield State and have a GPA over 3.0. Student participation is possible thanks to the generosity of Larry and Barbara Elsner-Gwowdz ('69). Academic Affairs also supported advisor Dr. Aieta's involvement.
The Kappa Omicron chapter began at Westfield State in 1965. This marks the first time in over two decades that Westfield State Students have attended the biennial Phi Alpha theta meeting.