Westfield State students with intellectual disabilities gain continued support via state grant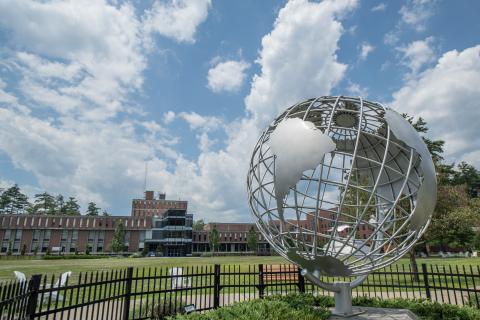 Westfield State University has been awarded a $115,000 state grant by the Massachusetts Department of Higher Education (MDHE) to enhance its support of students with intellectual disabilities. 
The grant will continue to benefit student participants in Westfield State's Massachusetts Inclusive Concurrent Enrollment Initiative (MAICEI), as announced by MDHE Commissioner Carlos Santiago.  
In a letter to Westfield State University President Linda Thompson, DrPH, MPH, RN, FAAN, Santiago thanked WSU, noting "thanks to the leadership of institutions like yours, Massachusetts has distinguished itself as a national leader in creating authentic, inclusive learning opportunities for young adults with intellectual disabilities."  
President Thompson also emphasized the MAICEI's connection to Westfield State's inclusive mission and values. "The MAICEI program follows Westfield State's mission of an inclusive community that provides ongoing personal development support of all of its members. This funding allows the University to continue to diversify its student enrollment while creating more opportunities for a growing number of motivated and underserved individuals to earn a college education." 
Entering its ninth year of operation, Westfield State's MAICEI, one of 15 across the state, partners with 11 area school districts: Agawam, Amherst, Chicopee, Hampden Wilbraham, Hampden Charter School of Science, Longmeadow, Ludlow, Southwick Tolland Granville Regional, Springfield, West Springfield, and Westfield. 
Westfield State's MAICEI dual-enrolls 22 students, ages 18–21 who have intellectual disabilities and receive special education services through their school districts, with a highly personalized learning experience. MAICEI students enroll in 100- and 200-level courses that reflect their long-term employment goals, alongside traditional day students at Westfield State.

Launched in 2013 with five students, Westfield State's MAICEI has grown to be one of the largest in the Commonwealth. In addition to Westfield State courses, students are offered seminars to target and refine their skills in the areas of academics, employment, social-emotional, and health and wellness. Students also participate in pIeCES (Positive Inclusion of Everyone Creates Educational Success), a student-run peer mentor group that allows MAICEI students to interact with other students on campus, providing opportunities to develop social-emotional skills during weeknight and weekend visits.  
 "We are excited to continue these initiatives and increase our partnerships to provide area students with more options and support for inclusive post-secondary education," said Lyndsey Nunes, director of Westfield State's MAICEI. "We are fortunate to offer this program due to the efforts of the entire Westfield State community. After the last year and a half, we are considering this upcoming year as a reboot. We are eager to have the students back in their 'nest,' to institute new programmatic changes, and give them an authentic and inclusive chance to spread their wings."