Westfield State Students with Intellectual Disabilities Gain Continued Support Via State Grant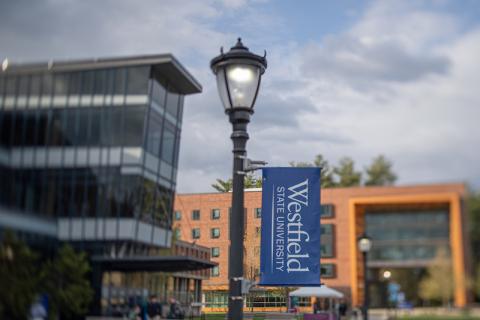 WESTFIELD -- Westfield State University has been awarded a $145,012 state grant by the Massachusetts Department of Higher Education (MDHE) to enhance and continue its support of students with intellectual disabilities. The grant will continue to benefit student participants in Westfield State's Massachusetts Inclusive Concurrent Enrollment Initiative (MAICEI), as announced by MDHE Commissioner Noe Ortega.  
In a letter to Westfield State University President Linda Thompson, Ortega thanked Westfield State for its participation in the program, noting, "Thanks to the leadership of institutions like yours, Massachusetts has distinguished itself as a national leader in creating authentic, inclusive learning opportunities for young adults with intellectual disabilities."
MAICEI is a state-funded grant program that provides dual enrollment opportunities to high school students, age 18-21, that have intellectual and developmental disabilities in an inclusive college experience. Students of the MAICEI program build their independence and enhance their quality of life through the college experience.
Governor Maura T. Healey and Lieutenant Governor Kimberly Driscoll, also thanked the leadership of Westfield in continuing and supporting MAICEI programming, stating in a letter, "We want to thank you for your commitment to providing academic, social, and career development opportunities for young adults with intellectual disabilities. Through this funding and your support, we hope to expand access to great educational opportunities for every student in the Commonwealth."
President Thompson emphasized MAICEI's connection to Westfield State's mission and values noting,  "Westfield State University is committed to provide an educational environment where all students can thrive and flourish, providing the skills, knowledge and tools to realize success in their chosen occupation. We are proud to be one of 14 institutions around the state that participate in this important initiative, and we look forward to continuing our efforts in offering programs that guide our students toward achieving their goals."
The funding will allow Westfield State to continue offering inclusive postsecondary education options to individuals with intellectual and developmental disabilities who have been historically denied a college opportunity due to statewide assessments and other factors. The grant award not only provides Westfield State funding to continue to include individuals with I/DD between the ages 18-22 but also build opportunities to expand programs to include individuals who are 22 years or older, ensuring adherence to the landmark legislation "Creating Higher Education Opportunities for Students with Intellectual Disabilities, Autism, and other Developmental Disabilities."
Lyndsey Nunes, director of Westfield State's MAICEI, expressed gratitude for the state's continued support, "We are extremely grateful to the administration, staff, faculty, and students at Westfield State. It is the commitment of the entire campus community to authentic inclusion that has allowed us to build our program over the last 11 years and be part of a national movement, creating a more accepting and inclusive society." 
Founded in 1839 by Horace Mann, Westfield State University is an education leader committed to providing every generation of students with a learning experience built on its founding principle as the first public co-educational college in America to offer an education without barrier to race, gender or economic status. This spirit of innovative thinking and social responsibility is forged in a curriculum of liberal arts and professional studies that creates a vital community of engaged learners who become confident, capable individuals prepared for leadership and service to society.
 For more information on Westfield State University, visit us at www.westfield.ma.edu, follow us on Twitter at www.twitter.com/westfieldstate, or on Facebook at https://www.facebook.com/WestfieldStateUniversity.