Westfield State students produce, donate over 1,000 activity kits to local Boys & Girls Club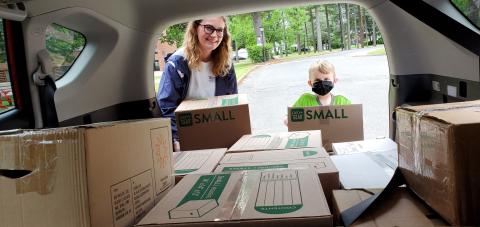 Westfield State University health sciences students created and donated more than 1,000 "healthy living" activity kits in June to the Boys and Girls Club of West Springfield.
The project was created when the COVID-19 pandemic forced faculty members to devise new ways to teach in a vast majority of its courses. Traditionally, in the Health Science Department's "Public Interventions" course, students develop a plan to practice and implement a health program in the community, but many of the sites that hosted University students were closed this past academic year.
Under the direction of Karen Sladyk, Ph.D., professor of health sciences, spring 2021 students gathered supplies and designed "healthy living" activity kits for children ages 6 to 12, building off the COVID Playbook the students published (via Kindle Press) in fall 2020.
"The kits included physical games, crafts, social development group skill-building, and tasty snack projects," said Sladyk.
Course participants collected supplies donated by Westfield State faculty and staff and stored them in a Bates Hall classroom.
"Several students participated in packaging the supplies, making samples, and writing directions for the kits—social distancing and wearing masks while in the supply room," Sladyk explained.
Finished kits were organized by health science majors Mikayla Weafer '21 and Mohammad Saleh '22.
In discussions with Department of Health Sciences Chair Jennifer Hixon, D.H.Sc., and Program Manager Robert Robinson II, the Boys and Girls Club of West Springfield was selected for the initial contact for the kits.
"The Boys and Girls Club was a natural fit to this project, as they host numerous summer programs," said Hixon.
Robinson had first-hand experience with the Boys and Girls Club staff; his son visited the Club during the adapted school year.
Sladyk received a response within minutes of offering the kits via email to Michael Macleod, director of operations at the Boys and Girls Club of West Springfield. He and Activity Program Director Marrissa Friedman gratefully received the delivery, according to Sladyk.
"We will use every one of these," said Friedman. "Thank you, Westfield State University."
Photo: Westfield State health sciences major Alexandra West '22 and Boys and Girls Club member Alexander Robinson load the car with "healthy living" activity kits for delivery.