Westfield State University environmental science program lauded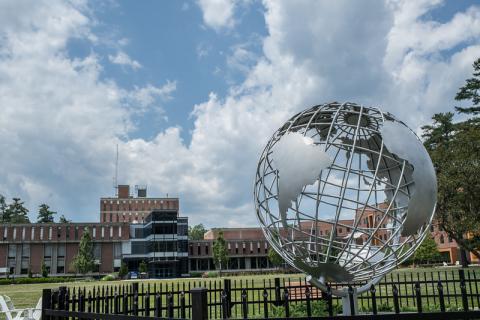 Westfield State University's interdisciplinary and collaborative environmental science program has been recognized by regional and national rankings for its affordability, size, and excellence.
The University placed first in Massachusetts, fourth in New England, and 26th nationwide for "the greatest number of environmental science graduates relative to the size of the University," according to EnvironmentalScience.org. It ranked first in Massachusetts and 10th in the United States for "Most Affordable Environmental Science Degree," according to The College Affordability Guide. It also placed first in Massachusetts and fourth nationwide for "The Top Bachelor's Degree Programs in Environmental Science," according to Study.com.
"It is rewarding to be recognized for a program that we think is the best of its kind in New England," said Tim Parshall, Ph.D., professor and chair of Westfield State's Department of Environmental Science.
The department prides itself on an interdisciplinary, science-based, and collaborative program that offers a hands-on approach to learning about the environment and becoming an environmental professional. It aims to educate future professionals to understand how humans interact with the environment and to develop their skills and abilities to solve environmental problems.
The rankings come on the heels of the addition of a restoration ecology minor that the Department of Environmental Science implemented during the 2020-2021 academic year.
"We are especially excited to have added the new minor, which is one of the only undergraduate programs of its kind in New England as it prepares students to work in this fast-growing field," said Parshall.
The U.S. Bureau of Labor Statistics forecasts a growth of 8 percent in environmental science jobs over the next 10 years. Westfield State works with the Massachusetts Division of Ecological Restoration (which has offices on campus) to connect students with working professions, allowing them to choose from a variety of courses. In addition, students can also specialize in minors such as wildlife conservation or wetlands planning and management.
The environmental science curriculum emphasizes hands-on student research projects, which can be parts of regular courses or represent the student's capstone experience as independent research. Internship opportunities supplement coursework and provide students with an additional chance to gain real-world experience with community partners.
"We think learning happens best when students are immersed in real-world research projects," said Parshall.
These recent rankings were evaluated on a basis of published surveys, student data, and affordability, accessibility, and quality of education data collected through several sources such as The Integrated Postsecondary Education Data System (IPEDS) and The National Center for Education Statistics (NCES).