Westfield State University faculty and alumna contribute to published research about how use of social media affects sleep quality and performance of collegiate athletes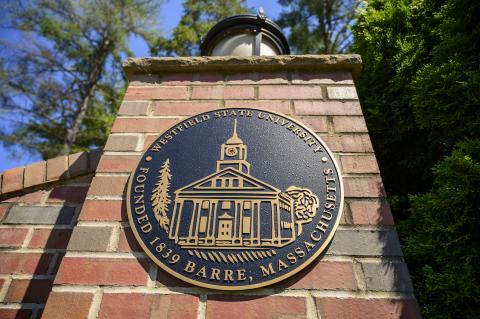 The Clinical Journal of Sports Medicine has published Westfield State University research into how social media influences the quality of sleep and performance of student-athletes.
Paul Cacolice, Ph.D., Westfield State assistant professor of sports medicine and human performance; alumna Danielle Hunt '17, a clinical research manager at Boston Children's Hospital, and four professional colleagues conducted the research, which appears in the published article, "Association of Social Media Use on Sleep Quality and Performance among Collegiate Athletes." Their findings revealed that frequent social media use has a negative impact on sleep quality and may hinder competition performance among college athletes.
The topic of social media has just begun expanding into the realm of academic research, so information on its influence on student-athletes is minimal, according to Cacolice. 
"Collegiate student-athletes report higher levels of stress and anxiety than non-student-athletes, so this research aims to understand the relationship between how social media affects this population at elevated risk and the potentially profound effects it can have on health and performance," he said.
The study provided partnership opportunities for the University.  
"We are thankful to work directly with the team at the Division of Sports Medicine of Boston Children's Hospital and The Micheli Center for Sports Injury Prevention," said Marlee Berg-Haryasz, Westfield State's assistant director of athletics for student-athlete welfare, recruitment & retention, and an assistant coach of the University's cross country and track & field teams. "Supporting and working with alumna Danielle Hunt was highly rewarding and set an example for our student-athletes."    
Having data that directly reflects the University's student-athletes' performance has proven to be valuable, according to Berg-Haryasz.  
"It allowed our student-athletes to see how their daily habits can hurt their quality of sleep, which is vital to recovery," she said. "The research findings play a role in resources for our coaches and administration so we can properly reflect programming and have conversations as needed about the importance of sleep." 
Using the research, new strategies can be developed to minimize social media platform utilization for individual student-athletes and teams to increase overall health, academic, and athletic performance. This is especially important at Westfield State, due to the University's excellent reputation of successfully balancing academic and athletic prowess among its peer institutions. 
In the past decade, Westfield State has placed more student-athletes on the Massachusetts State Collegiate Athletic Conference (MASCAC) All-Academic Team list than its conference peers, while also winning five of the last six Howard C. Smith Cups, annually awarded to an institution that excels in the league's eight championship sports. 
Cacolice and Hunt believe that the study's findings will help Westfield State keep these outcomes high. The information they have thus far learned has been shared with the University's coaches and student-athletes for immediate application. They also hope this research will inspire other interdisciplinary studies on social media, such as exploring its long-term effects (i.e., stress) and the amount of time spent on the platforms. 
Deeper investigations to determine the reason or motives behind the extensive use of social media among college students and student-athletes are ongoing—with a second manuscript about the effects of sleep and social media under review and anticipated to be published in 2022. 
For more information, access this Westfield State research of social media's influence on sleep.