Westfield State University hosts annual fall celebration of student work from its Center for Undergraduate Research and Creative Activity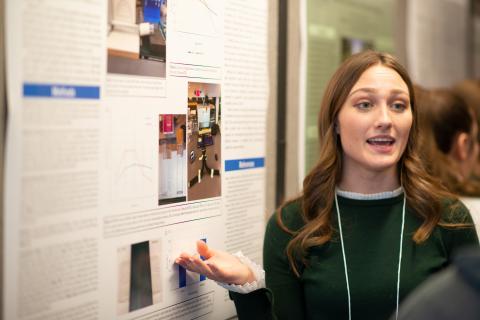 WESTFIELD, Mass.—Westfield State University celebrated student research and creative projects on Friday, December 9, 2022 at the annual Center for Undergraduate Research and Creative Activity (CURCA) Fall Celebration.
The 2022 Fall showcase was the largest event to date with over 200 diverse faculty-mentored student works with projects including posters, oral presentations, photography, original poetry, and videos. CURCA supports research and creative projects of all four Schools providing opportunities for student engagement, professional development, and faculty support.
"This conference is a testament to our dedicated faculty and staff who provide a multitude of diverse opportunities to engage students in high-impact practices. Whether through independent work, course-embedded projects, or internships, participating students have applied the process of research to real-world issues and communicated their work in knowledgeable and creative ways. Engaging in research is truly a transformative experience, allowing students to follow their passions, gain confidence in their abilities and skills, while creating a competitive portfolio", noted CURCA Director, Dr. Lamis Jarvinen.
Dr. Vanessa Diana, Professor of English, praised the event for its impact on student's growth. "The CURCA tradition at Westfield State is incredibly important to the work we do. All of my current students had an opportunity to share their research with a public audience that included peers, faculty and staff, community members, and family. Some of my students were quite nervous for their first time presenting at a conference, but they rose to the challenge and came away very proud of their work and with increased confidence. I was especially struck by students' reactions when they saw first their poster projects printed—many remarked at how professional they felt! I get to see how impressive they are each day, but this public event lets us all acknowledge how truly talented our students are and how fortunate we are as faculty members to work with them." 
The event began with an opening ceremony in the University's Black Box Theater and included a welcome from Westfield State University Chief of Staff, Dr. Michael Freeman, and CURCA Director, Dr. Jarvinen.  Keynote student speaker Grace Templeton ('22) and selected student poets Alexis Crafts ('24) and Liam Foskett ('24) also shared their experiences and work. Following the ceremony, attendees moved freely between oral and poster presentations, poetry readings, a photography gallery, and a "Wall of Words."
The Wall of Words provides a publication showcase for students studying in the suite of English creative writing courses. Writers of fiction, memoir, creative nonfiction, and poetry select poems that represents their voices to the broader campus audience. The CURCA event gives faculty an opportunity to work with students on selecting, editing, and presenting their very best, and in the process create a twice-yearly anthology of student creative writing. In addition, the Wall of Words gives Westfield State University's English department an opportunity to collaborate with faculty and students from Holyoke Community College and Springfield Technical Community College as mentors and presenters.
An archive of the Fall 2022 CURCA celebration will be posted later in the academic year at http://www.curca.westfield.ma.edu/.