Westfield State University hosts annual fall celebration of student work from its Center for Undergraduate Research and Creative Activity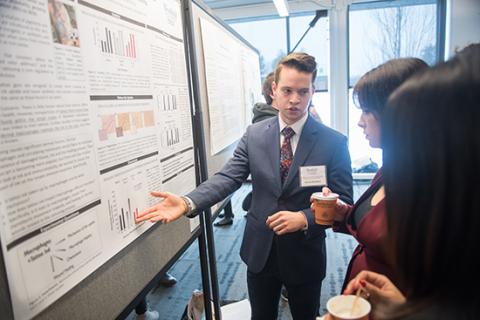 Westfield State University student research and creativity will be celebrated Friday, Dec. 10, at a virtual event sponsored by the Center for Undergraduate Research and Creative Activity (CURCA). The public is invited to view the presentation at http://www.curca.westfield.ma.edu/. The annual event showcases 120 diverse projects presented by more than 250 Westfield State students that include videos, posters, digital storytelling, and original poetry.
 "Through independent work and course-embedded projects, participating students—with the help of their faculty-mentors—have applied the process of research to real-world issues and communicated their work in knowledgeable and creative ways," said CURCA Director Lamis Jarvinen, Ph.D. 
In addition to the asynchronous celebration, several synchronous live events will be held. Each event has a separate Zoom link, which will be available at http://www.curca.westfield.ma.edu/. 
12-1 p.m., English Department: CURCA Storytelling project – Students will share their powerful stories using live and digital techniques created in a course taught by Professors Catherine Savini and Beverly Army-Williams.

12:30-1:30 p.m., Biology Seminar Series: Jarrod Petersen '19 – WSU/CURCA Student Summer Research Fellow Jarrod Petersen '19, a Ph.D. candidate at Brown University, will speak about his research experiences when he was a Westfield State undergraduate student. He will also discuss his current research at Brown University, "The Effects of Increased Elasticity on Force Production in the Locomotor Muscles of Snakes."

1-2 p.m., CURCA SSuRF Presentations – 2021 Student Summer Research Fellows will present their projects, followed by a Q&A session.

2-3 p.m.,  CURCA Poetry Reading – Run by Persona, students, faculty, and staff are welcome to recite poetry in a friendly and welcoming environment during this open mic event.
For more information, contact Dr. Lamis Jarvinen (ljarvinen@westfield.ma.edu).