Westfield State University students win Grinspoon awards for entrepreneurial spirit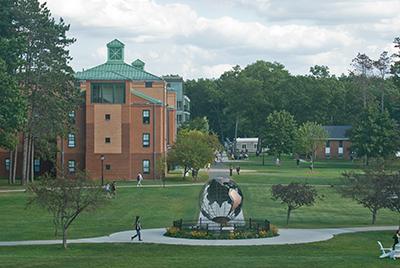 The Grinspoon Entrepreneurship Initiative (EI) recognized two Westfield State University students on April 28 for their creativity and entrepreneurial spirit. The students—seniors Sophia Kelleher and Robert Munson—were among 61 collegiate-level entrepreneurs representing 56 businesses or business concepts to receive awards during the annual event.
Real estate entrepreneur Harold Grinspoon founded the Grinspoon Entrepreneurship Initiative in 2003 (a program of the Harold Grinspoon Charitable Foundation) to elevate the importance of entrepreneurship and recognize entrepreneurial excellence among college students.
Kelleher, a senior business management major from Southwick, will receive an EI award for Studio by Sophia, LLC, which is an online hair accessory shop that combines her love for design and sewing. She makes by hand each accessory—headbands, scrunchies, bow scrunchies, and hair ties. The business has grown from manufacturing five to 10 headbands a month, to an average of 100 per week over the last four months.
"Receiving this award as a new business owner is so rewarding, and I am very grateful that Grinspoon gives young entrepreneurs the opportunity for success. It has been such a fun learning experience since I first started making and selling hair accessories, I never thought I would come this far," said Kelleher. 
Munson, a senior business management major from Plainville, Conn., was recognized for his new business concept The Par Card, a first of its kind multi-course golf membership. The Par Card will allow members to choose the courses they wish to belong to and pay a similar price to the average single course membership. Munson was also selected to represent Westfield State in the annual community bank-sponsored elevator pitch Contest.
"It's an honor to be recognized for my business concept by the Grinspoon Foundation and I'm appreciative of the opportunity to bring my ideas to life. With The Par Card, my goal is to put a revolutionary spin on golf course memberships while making them a sensible investment for people of all socioeconomic backgrounds and upbringings," said Munson. Westfield State is among 14 Pioneer Valley colleges and universities to participate in Grinspoon EI each year.
"Our programs are designed to prepare students to be successful, productive members and leaders of organizations. We continue to grow our department offerings with a focus on curriculum that is designed to foster an entrepreneurial mindset," explained Kimberly Sherman, Ph.D., associate professor of economics and management.
Sherman described Kelleher as a "highly motivated individual with a strong entrepreneurial spirit," whose ability to grow her own business in such a short amount of time, especially during the challenging circumstances of the Covid-19 pandemic, is "truly impressive."
Munson, she explained, demonstrated the knack for the "elevator pitch" early on, showcasing a genuine interest in entrepreneurship with his own love of golf.
"Many of our graduates will start their own organizations or take over family businesses. Cultivating these entrepreneurial skills will help them successfully navigate the many challenges they will face in their personal and professional lives," said Sherman.