WSU to contribute to National Science Foundation technology, entrepreneurship workshop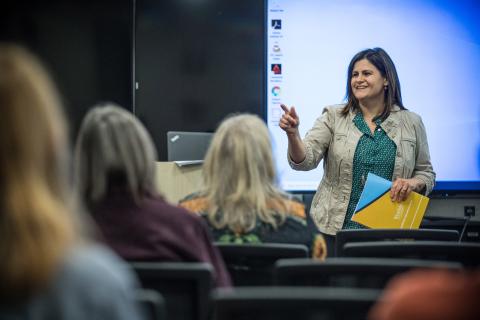 Further advancing Westfield State University's mission to develop innovative, collaborative methods to achieve the benefits of advanced technology, Lamis Jarvinen, Ph.D, Director for the Center for Undergraduate Research and Creative Activity, has been selected to participate in the National Science Foundation's Supporting Undergraduate Institutions in Technology and Entrepreneurship Development (NSF-SUITED) workshop, a year-long program.
 The workshop series, in three parts, aims to assist primarily undergraduate institutions (PUIs) on how to better access the benefits of technology, innovation, and partnership (TIP) activities and help the NSF, and other key agencies, to better support PUIs.
This collaborative approach brings together science and engineering faculty, administrators, and others to develop pathways to generate increased participation. TIP activities include technology, development and technology transfer, entrepreneurship, commercialization, and innovation.
The SUITED workshop series will occur throughout the year, with the first part taking place in January 2023. The goal of the initial phase is to gather and build a community of participating PUIs to identify unique needs, infrastructural requirements, challenges and impact the scope of work that needs to be done to support the mission of undergraduate institutions.
The second and third parts will take place at Union College and involve intensive in-person events aimed at giving participants the opportunity to develop and test plans to pursue TIP activities at their institutions, apply for funding and build programs that will directly and meaningfully impact undergraduate students.  
Jarvinen looks forward to the challenges outlined by the workshop:
"I am grateful for the opportunity to participate in conversations and training focused on creating a sustainable infrastructure that supports innovation, entrepreneurship, and technology commercialization at WSU. Being involved in partnership with NSF, TIP experts, and other PUIs has been illuminating. Through this process, I've been able to express the unique challenges, partnerships, and financial needs we require to succeed. I am looking forward to sharing my training and community network to help Westfield State University chart a successful path, helping to lead, leverage, and bring innovative ideas that arise from course-embedded or independent research projects to market."