WSU Students Recognized for Academic Achievement in Political Science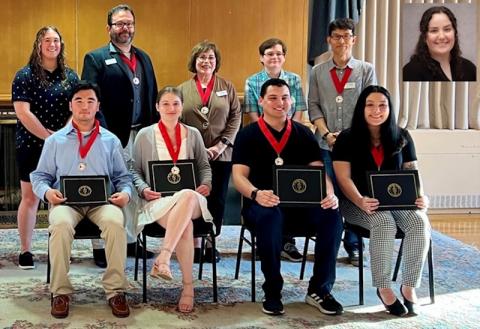 Five Westfield State University students were recognized for academic achievement as new members of Pi Sigma Alpha, the National Political Science Honor Society. 
Shahzair Tasneem, Alison Lundgren, Nicholas Lecce, Maggie Roberts and Gwyneth Smith join the ranks of notable Pi Sigma Alpha members including President Bill Clinton, three Supreme Court Justices and dozens of members of Congress.
"I am so honored to be recognized and it has further motivated me to continue working hard in and out of the classroom!" said Smith, a Political Science Major with a concentration in Law and a Minor in Communications.
"It takes exceptional effort by students to earn this recognition," said Mu Nu Chapter Advisor Dr. Charles DiStefano.  Invitations were received by Juniors and Seniors in the top third of their class who have completed at least four political science courses with a B average or higher. 
Pi Sigma Alpha was founded in 1920 to bring together students and faculty interested in the study of government and politics. It has nearly 850 active chapters, including Westfield State's Mu Nu chapter which was granted its charter in 1982.