Event Management Software (EMS) Instructions
Please allow these instructions to serve as an important reminder of the Event Management Software (EMS) reservation system, and the proper procedures for booking any space on the Westfield State University campus.  This email pertains to everyone who has or will use any location on campus.
AS A CRITICAL REQUIREMENT OF THE EMERGENCY RESPONSE PROCESS, ALL EVENTS, MEETINGS, MAINTENANCE, EXHIBITS, ETC. ARE REQUIRED TO HAVE A RESERVATION IN EMS.
All Faculty and staff have access to EMS for the purpose of reserving space on campus.  If you need assistance, please see your department administrative assistant first, as they can make reservations on your behalf. You may also call Event Management at x8276 for assistance. **You may not move a class for any reason without first contacting either the Registrar's Office or CGCE (Graduate & Continuing Education) and Event Management.**
If you have never used EMS:  Please contact Event Management at x5580 directly to create an account.
CREATE A RESERVATION
Browse to https://calendar.westfield.ma.edu/EmsWebApp/ and login to the Virtual EMS system using your User ID and password. Note: your User ID is your full email address.
You can begin making a reservation by clicking the CREATE A RESERVATION option (on the left menu) or the Book Now button next to one of your reservation templates (on the right).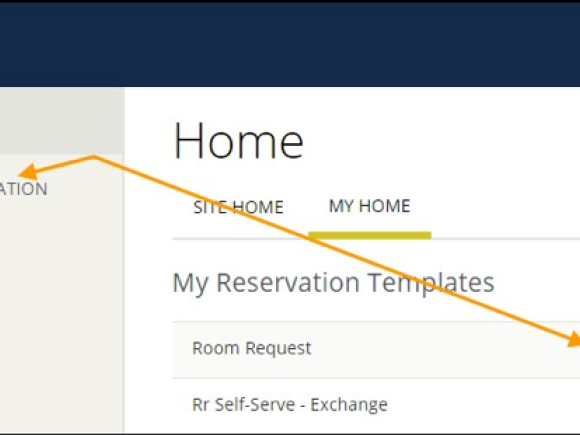 Next, the Create a Reservation screen appears, where EMS Web App will lead you through the reservation process. Enter information (including all required fields) using the Next Step button to advance through the process.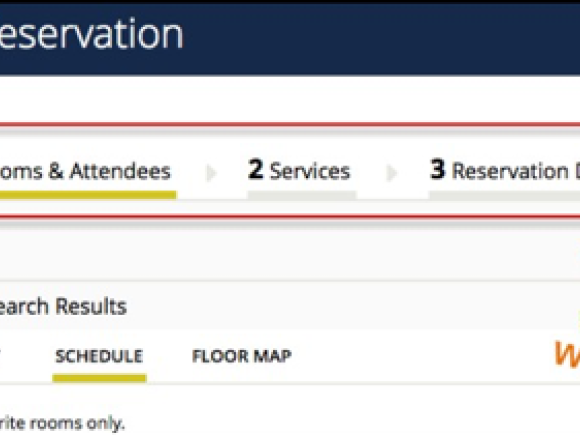 SPECIFY WHEN AND WHERE
To specify When, select dates, times, recurrence (optional), and time zone for the reservation in the upper left panel.
To specify Where, in lower left panel, select one of the following:

Locations (Search specific buildings or areas for available bookings using the Add/Remove Filter) OR
Let Search for a Room (Search for a room using filters that narrow the room selection by room types or features you are looking for) OR
I Know What Room I Want (Begin typing the name of the room you want and any rooms matching that name will show up in the right hand column)
Example: You want to see all the rooms available in Parenzo.  Next to Locations, hit Add/Remove. Select Parenzo Hall and hit "Update Locations".  In the right hand column you will see each room available in Parenzo. 
Once you have located a room to reserve, click the Add (+)icon to add the booking to your cart. You can delete or change the room before finalizing your Reservation.

Once you complete all required fields on this tab, click Next Step in the upper-right corner.
CHOOSE SERVICES (OPTIONAL)
NOTE: Choose Services is an optional feature.  Services include room setup and teardown, equipment, and any other services you wish to associate with a room. Your Administrator sets which services can be associated with a room and with an event type.
Under the Services tab in the Create Reservation screen, specify any services you wish to associate with the reservation (if available, you can click Skip Services).
When complete, click Next Step in the upper right corner. 
FINALIZE RESERVATION DETAILS 
The Reservation Details screen finalizes information about your reservation.
Complete all required information. Then click Save Reservation Details and Create Reservation.
EVENT CANCELLATIONS REQUIRE A MINIMUM NOTICE OF 3 DAYS!
Should you need to cancel an event, you may do so in EMS under your account. If you are cancelling an event with less than a 3-day notice, you MUST contact Event Management immediately at x8276.
You are responsible for contacting the service departments you have made requests of, (i.e., contact the appropriate building maintainer, media services, catering, sign shop, etc.) Please be advised, if you cancel an event after Facilities & Operations have prepared your function, your department MAY be charged.  Please contact Jim Rovezzi should you have any questions regarding set up charges.
Catering                        
Contact Catering at x5478 or email catering@westfield.ma.edu
Please remember that all food and beverage orders must be purchased through Westfield State Dining Services. External vendors are NOT permitted on campus unless there are compelling, extenuating circumstances that must be discussed in advance with Westfield State Dining Services and written permission is received. Requests for alcohol at your event requires a 45-day advance notice.
**NEW** Sign Charges
There is a $8.80 charge per large outdoor sign, these charges will be charged back to your department account by the copy center. ($1.62/sq.ft.).
Public Safety
If you are serving alcohol at your event, a public safety officer is required. There are NO exceptions.  (A minimum of 1 officer per 100 people.)  If you are bringing a guest speaker to campus, you must notify Public Safety in advance.
Specialty Rooms
Ely
210 Conference Room, Kim Morgan x5400
020 Conference Room, Barbara Hand x5429 or Kim Hosmer x8295 (room can be used and booked in EMS from 8 a.m.-3 p.m.)
SGA Club room, Barbara Hand x5429 or Kim Hosmer x8295 (room can be used and booked in EMS from 8 a.m.-3 p.m.)
Horace Mann Center
President's Board Room, Jeanne Vasu (x5201), Michele LeDoux (x5295)
New Hall Suite, Jeanne Vasu (x5201)
Parenzo Hall
Dever Stage, Mark Villani x8275  
VP Board Room, Callie Katsounakis x5213
Parenzo Gym, Louann Simchak x5417
University Hall            
Multi-purpose Room, Residential Life x5663

Meeting Room A&B            
Woodward Center     
Athletic Area, Dick Lenfest x8221, 

Nancy Bals x5515, 

Bob Miele x8252, 

Michael Young x5405

Mahoney Conference Room, Susan Chiasson x5679