Meeting Rooms and Facilities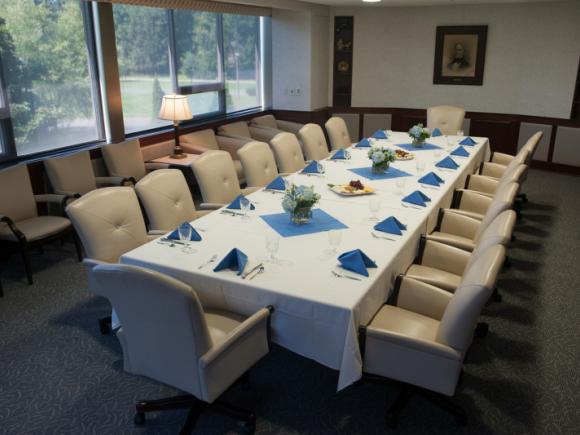 Rooms Available for Rent
If you need to request an accommodation for a disability including sign interpretation, please contact event management directly at (413) 572-8276.
Westfield State University features many different opportunities for space rental, including banquet facilities and conference rooms that provide state of art media service capabilities and catering services, and handicap accessibility.
Meeting Rooms and Facilities Gallery
EMS Instructions
Conference Rooms
Our President's Board Room, located at 333 Western Avenue on the second floor of the Horace Mann Center is perfect for board meetings for up to 16 people. Teleconferencing, Skype, LCD projector and screen, as well as catering services, are all available. This room has a beautiful view overlooking Stanley Park and features on-site parking.
The Garden Level Conference Rooms A and B also located at 333 Western Avenue on the garden level of the Horace Mann Center allows for a multitude of set up options: from banquet style (maximum 136 people), theater style (up to 100 people), as well as classroom style, and conference table seating. This room can be divided into two separate function spaces allowing groups to eat in one space and meet in another or provide two break-out session spaces. 
On the second floor of the Woodward Center, is a lovely conference space called the Mahoney Conference Room. The conference room features a large dry-erase board, television and DVD player and has a view overlooking Stanley Park.  The room can accommodate up to 12 guests and catering services are available.
The Tekoa Room, located just inside the entrance to the Tim & Jeanne's Dining Commons at 577 Western Avenue, features a conference table with seating for up to 16 people.  Additionally, this room features a casual lounge area for relaxing during a meal or meeting. You may order private catering in the room or take advantage of using the Dining Commons and pay as you go. The Dining Commons is an all-you-can eat multi culture buffet that features, hot entrées, large salad bar, sandwich station, pizza station, dessert, frozen yogurt and many other delicious options. You can access more information here.
Located in Ely Hall at 577 Western Avenue, there are a number of conference rooms including, Ely 020 and Ely 003 which can accommodate up to a maximum of 12 people. These rooms are located right next to Dunkin' Donuts!  Also in Ely Hall is the Owl's Nest.  This room can be arranged theater style, café style, on with rounds banquet tables of 8. Catering and media services are also available for this location.
Banquet facilities
Scanlon Banquet Hall is our largest banquet facility located in Scanlon Hall at 577 Western Avenue. This space can accommodate 360 people at rounds of 8 or 500 people theater style.  The Scanlon Banquet Hall can be divided into three main function rooms and a pre-function/catering area as well.  These rooms are each equipped with large presentation screens, and LCD projectors, podiums and additional technology is available in each section.  The Scanlon Banquet Hall works well for conferences featuring one general session and 3 breakout sessions.  The room features its own kitchen and full catering services.
The Loughman Living Room, also located in Scanlon Hall at 577 Western Avenue, features hard wood floors, large presentation screen, LCD projector, fireplace, and baby grand piano.  This intimate setting is perfect for banquets up to 80 people, receptions up to 100, theater style for 100 or class room style for 80 and can work in conjunction with the Scanlon Banquet Hall as a general session area or break out room. 
In addition to the conference rooms and banquet facilities, our computer labs and classrooms can be rented during the non-academic seasons including winter break, spring break, and summer.
Westfield State University features full catering services for all areas on campus.  External food and beverage vendors are not permitted on campus.  Our catering office can be reached directly at (413) 572-5478. Our talented chefs will customize a menu that best suits your needs and budget. Making our chefs aware of any dietary restrictions or allergies in advance will help your guests have a more enjoyable experience at your event.
Residential summer conferencing is managed in the Department of Residential Life; you can reach them by calling (413) 572-8053.
Dever stage
Dever Stage, our performance venue, can also be rented for rehearsal, performances, and large general sessions. The room seats up to 526 people and has two space dressing rooms.  To discuss rental possibilities and fee schedule, please call (413) 572-8275.