School of Business, Mathematics, Computing, and Sustainability
Meet the Associate Dean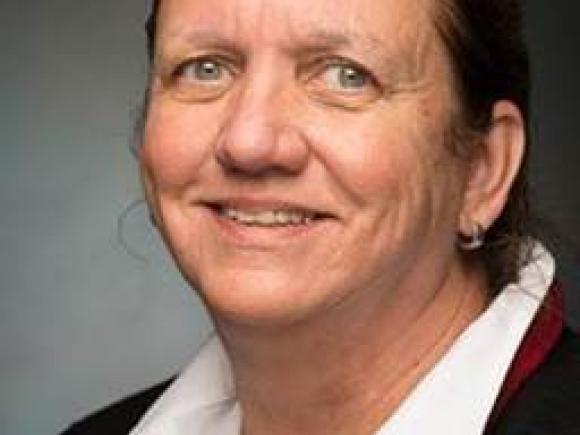 Dr. Rebecca Morris has been appointed Associate Dean of the School of School of Business, Mathematics, Computing, and Sustainability. She has served as the chair of the Economics and Management Department since 2019, which included Economics, Accounting, Finance, Management, Marketing, and ROTC.
Dr. Morris joined Westfield State in August 2015 as an assistant professor of Management. She earned tenure in 2019 and was promoted to Professor in 2020. She taught strategic management, international business, and leadership courses. Previously, she was a professor in the College of Business Administration at the University of Nebraska at Omaha (UNO) where she taught undergraduate and graduate courses in strategic management, international management, and information systems. She supervised 22 international consulting projects in the UNO Executive MBA Program. These projects included industries such as agriculture, financial services, food and beverage manufacturing, transportation, banking, and home healthcare in 19 different countries. Sponsoring clients included small businesses and four Fortune 500 firms. Dr. Morris while at UNO was also responsible for the university strategic plan.
Since arriving at Westfield State, Dr. Morris serves as a member of the University Efficiency Analysis Advisory Committee (UEAAC), the University Curriculum Committee, and the Presidential Transition Committee. She serves as a board member for The CASE Association, the Eastern Academy of Management, and the North American Case Research Association (NACRA). She serves the community of Hartford, Connecticut as a member of the board of directors for the Bushnell Park Foundation and as a finance committee member for Holy Trinity Mission Church.
Dr. Morris has published research in the areas of strategic decision making and effective pedagogy. Her published teaching cases on Nike, GlaxoSmithKline, Abbott Labs, Lululemon, and Kodak have appeared in more than 20 strategic management and international business textbooks. She is the Editor-in-Chief for The CASE Journal, serving in that role since 2016. Dr. Morris authored text on case research, writing, and teaching (Emerald Publishing), which was published in 2022.
Dr. Morris received a Bachelor of Science in biology from Creighton University, a Master of Business Administration (MBA) from Creighton University, and a PhD in business administration from the University of Nebraska-Lincoln, with emphases in strategic management, investments, and management information systems. Her dissertation focused on the design of decision support systems to improve strategic decision making.