A focus on the acquisition of both reporting skills and the practices essential for the production of meaningful multimedia journalism.
You'll study the organization and operation of news industries as well as the social and professional issues faced by journalists, giving you a deeper understanding of journalism's role as a social force.
Our curriculum balances theory and practical experience, bolstered by foundational principles in ethics, diversity, and intercultural communication.
Opportunities:
Personal, one-on-one faculty advisers
On-site television studio, radio station, student newspaper
Internships locally and in Washington, D.C.
Exceptional alumni networking
Communication Club and Television Club
Alumni Career Paths:
Local Newspaper Reporter
TV Newscaster
Meteorologist
Broadcast TVN Network News Director
News Website Editor
Book Publishing House Editor
Requirements
Program Description

The Journalism concentration emphasizes the acquisition of both reporting skills and the practices essential for the production of meaningful multimedia journalism. Through an examination of the organization and operation of news industries, as well as social and professional issues encountered by journalists, students deepen their understanding of the role journalism plays as a social force. Elective courses in the concentration allow students to explore a variety of journalistic specialties.
Requirements for the Communication Major - 45 Credits

Required Major Core - 27 Credits

Note:

STUDENTS MUST ELECT ONE OF THE FOLLOWING CONCENTRATIONS. In addition to the required courses for each concentration, students are required to take electives, one of which must bear a COMM designation. If the concentration requires three or more electives, one of the remaining electives may be chosen from the approved elective list from any of the other concentrations.
Journalism - 18 Credits
Additional Graduation Requirements
Learning Outcomes
The Communication Department prepares students to be well-informed, responsible citizens and creative and ethical communication practitioners. The department is unique in offering this balance of theory and practice, which is manifest through our courses, our widely respected internship program, and our students' involvement in a wide and diverse variety of campus and community organizations.
From the local to the global level, our students and graduates apply their knowledge and skills to pursue further knowledge, establish professional careers, and improve their communities.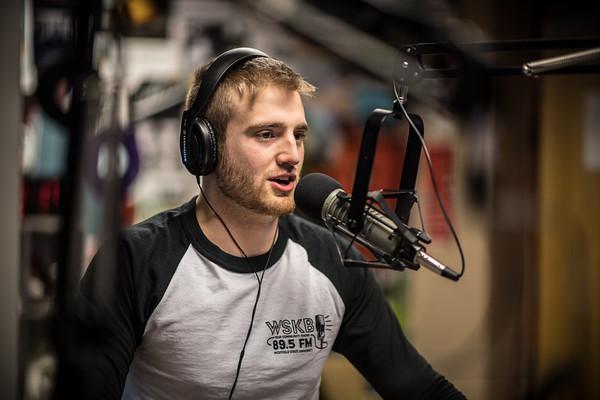 Related Clubs & Organizations
Communications Club

The primary purpose of the Communications Club is to participate in, assist with, and provide others with social interaction.
The Westfield Voice Campus Newspaper

The Voice is the Westfield State student press with primary emphasis on news that most directly and immediately affects students.
WSKB University Radio Station

WSKB is the student-run College radio station which broadcasts music, news, sports and other information.
WSU-TV Club

The purpose of WSU-TV is to provide an on campus, student-operated television program that serves as a learning environment for students interested in television production