Overview
The English major with the concentration in writing allows students to develop their talents in all areas of writing: creative writing, professional writing, journalism, and academic writing. Our degree program prepares students to be highly flexible and use their writing abilities in a variety of settings.  Internships and career-focused courses help students channel their passion for writing into professional careers. Graduates of our program include published authors, poets, copywriters, technical writers, journalists, editors, activists, entrepreneurs, and marketing professionals, to name just a few. We pride ourselves on the community of writers that forms in our program--a community that includes not only students and faculty but alumni writers who come back to share their work and mentor our students.
Topics Covered:  
Creative Writing, including fiction, poetry, and creative non-fiction
Advocacy Writing, including proposals, letters, story-telling, and op-eds
Professional Writing, including grant writing, copyediting, screenwriting, and writing about the arts
Journalism, including basic and advanced journalism and feature writing
Rhetoric, including advanced critical writing and persuasive communication
Program Highlights:
Course called Career Preparation for Writers to support students in developing the skills they need to make writing their life's work
Robust internship program, with internship experiences that count toward degree program
Workshop-model for writing classes to give students lots of practice giving and receiving feedback on their writing
Advanced-level courses in poetry, fiction, and memoir where students complete book-length projects
Encouragement to publish as undergraduates
Exceptional alumni networking
Guest speakers and writers
Plenty of opportunities to share work at public readings 
Opportunity to receive funding to travel to national conferences, including the Association of Writing Programs annual conference
Typical Schedule (there's great variation, depending on students' interests)
First Year
Intro to Black American, Native American, or Asian American Literature
Intro to Creative Writing
English 101: Composition I
College-wide general education courses
Second Year
Journalism or Writing about the Arts
Writing Poetry or Writing Fiction 
200-level Literature Survey
English 202: Composition II
College-wide general education courses 
Third Year
Creative Non-Fiction or Feature Writing
Persuasive Communication
Career Preparation for Writers
Special Topics in Writing Courses 
300-level Literature Survey
College-wide electives (including courses that count toward second major or minor)
Fourth Year
Advanced Coursework in Poetry or Prose
Internship
Special Topics and Writing Electives
300-level Literature survey
College-wide electives (including courses that count toward second major or minor)
15

students in each writing workshop class 

One-on-one

advising with faculty who are published writers

100%

of our students get writing experience through internships
Requirements
Program Description

Offerings in the Writing Concentration encourage students to develop their talents in three disciplinary areas: creative writing, professional writing, and rhetoric. Every student is also required to take at least one semester-long internship, and most students choose to study one area of writing in more depth, such as poetry or prose (fiction, creative nonfiction, playwriting, screenwriting) in the creative area, or journalism (feature writing, editing, sportswriting) or teaching of writing in the professional area.
Requirements For All English Majors

A minimum of 45 credits is required within the English major.
Completion of at least two college semesters of one foreign language is required, unless during high school the student has (a) completed three years of study of one foreign language, or (b) completed two years of study in each of two foreign languages. A student may also satisfy the foreign language requirement by passing a proficiency examination designed nationally and administered locally.
Students who transfer into the English major from other institutions must complete 21 credit hours in English at Westfield State University.

Students may satisfy three of the required six credits in the Literary and Philosophical analysis area of the core with any of the courses on the following list. English Education students may satisfy all 6 of the required Literary and Philosophical analysis credits with courses from this list.
Requirements for the Writing Concentration - 45 Credits

Students completing the Writing Concentration take four courses (or 12 credits) in the Literature area as defined below, and eleven courses (or 33 credits) in the Writing area for a total of 45 credits.
Literature - 12 Credits

A total of four courses (12 credits) are required according to the following distribution:

Maximum of 1 course from the 100-level including:

Minimum of 1 course from the 200-level including:

Minimum of 1 literature course from the 300-level including:

Note:

* One course must be a Diverse Literary Traditions course (indicated with *).
Writing - 27 Credits

Creative Writing:

Professional Writing:

Journalism Writing:

Rhetoric and Writing:
Careeer Planning - 6 Credits

Writing Concentration students are required to complete two courses in Career Preparation. A 3-credit internship in English, ENGL 0380, which provides supervised work experience in a non-classroom context and setting. During their junior or senior year, students apply skills learned in the program in occupational settings and real-world consequences. Work experience gained through the Internship typically culminates in a more competitive post-graduate job placement or graduate school acceptance rate. For Writing Concentration students an internship is a critical part of their preparation for entering the workforces, and interns often parlay their experience directly into paid employment as an extension of their professional relationship with their respective organizations when their internships are completed. Career Preparation for Writers, ENGL 0329, helps to ensure that students develop the tools they need to be professional writers, including putting together portfolios, preparing job materials, and writing personal statements.
Additional Graduation Requirements
English - Writing Learning Outcomes
Demonstrate practical applications of a variety of writing styles; creative and professional genres; and rhetorical strategies and conventions.
Demonstrate competency with revision processes and collaborative revision as both critic and author through activities such as workshops, peer reviews, and group projects.
Demonstrate competency in editing for grammar, mechanics, and conventions.
Demonstrate the ability to present original written materials orally in contexts such as workshops.
Demonstrate awareness of opportunities to circulate original writing beyond the classroom in forums such as publications, internships, contests, and poetry slams.
Demonstrate the capability for self-assessment, including in relation to portfolios and self-critiques.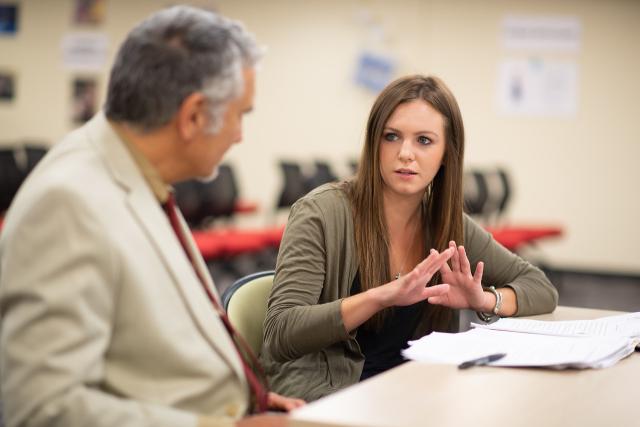 Related Clubs & Organizations
The Westfield Voice Campus Newspaper

The Voice is the Westfield State student press with primary emphasis on news that most directly and immediately affects students.