Black history through artist storytelling showcased at Arno Maris Gallery.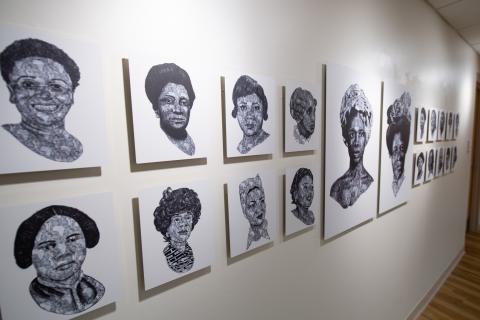 Westfield State University opened its doors to the entire community for its latest exhibit entitled, "Something Extraordinary: A Visual Review of 'Story' as Timeless."
The exhibition, featured at the Arno Maris Gallery in Ely Campus Center, serves to recognize Black artists in paintings, drawings and mixed media that captures Black history through a creative lens. 
Curated by Westfield State's art professors, Dr. Christina Swaiden and Dr. Imo Imeh,  featured artists Faustin Adenoran, Kimberly Becaot, Yeukai Chiroodza-Imeh, Omarthan Clarke, Kiayani Douglas, Tara Gorman, Kahli Hernandez, and Jaja Swinton contribute to illustrate the importance of showcasing Black history in art. The artwork will be exhibited through March 31.
Swaiden notes Black people have been marginalized and unacknowledged throughout western art history, both as subjects and as artists. "I always use art to serve as a vehicle for dealing with multiculturalism or issues around diversity and inclusion. I make sure that it speaks to and gives voice to people of color, marginalized people, and women," Swaiden said.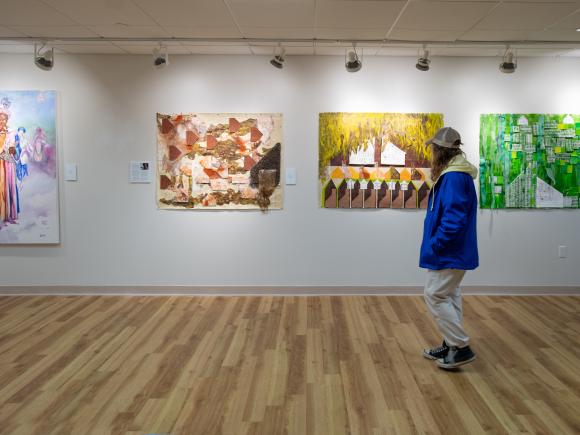 She added, "I'm glad that this event is free and open to the public. We are part of a beautiful community, and I want to showcase the work we're doing on our campus. Our Black students need to see that there is an exhibition on campus that is amazing, created by people who look like them with images of people that look like them." 
In keeping with the theme of  'Something Extraordinary', Swaiden and Imeh plan to launch Westfield State University's first artist-related podcast. The podcast's aim is to feature conversations between Black artists on their creative process as they shed light on the beauty of their work.
"Black history is all year long. We are planning on keeping up the momentum. I'm happy to see people come out for this because these events build community," Swaiden said.
To learn more about the history of the Arno Maris Gallery, visit here.