The Arno Maris Gallery originally was initiated as a small-scale gallery space with art works being hung in the hallway of the Parenzo building. Eventually permanent space was obtained in the basement of the Ely Campus Center.   In 1986, the gallery moved to a more accessible location and changed its name from the Ely Gallery to the Arno Maris Gallery, in honor of Arno Maris, a longtime chair of the Art Department.
The Arno Maris Gallery hosts a minimum of five exhibitions each year, including the annual student show.   In conjunction with each exhibition, there may be a public reception and talk or presentation by an artist, critic, or curator. The gallery is under the auspices of the Art Department and the gallery director.   The gallery director has a staff consisting of a student gallery manager and student work-study assistants. Students and faculty benefit from the gallery as an adjunct to classroom lectures and studio courses.   The gallery maintains a permanent collection, which is periodically displayed in the gallery.   The gallery has been used for various events and receptions.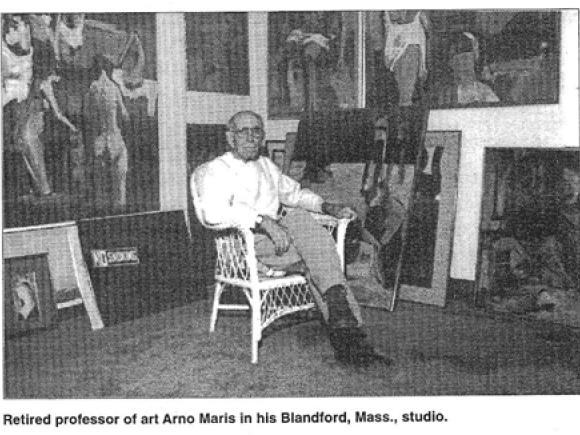 ARNO MARIS - A LEGACY
Both Arno Maris and his wife Maria were faculty at Westfield State University. Maria Maris taught Spanish while Arno taught in the art department. He described his teaching Career at Westfield State University as his "first and last job." He started at the college in 1956 and retired 30 years later.
The stability of his career and the  quiet of his retirement days were the culmination of a life of restlessness, adventure, great talent, and determination.
As a boy in Nijmegen, Netherlands, Maris showed early interest and aptitude in the arts. He was encouraged by his mother and learned much from an older brother, a sculptor. But this homey beginning to the artist's life was interrupted when Maris joined the Dutch army in 1938. Stationed in Indonesia when World War II erupted, he was held in a Japanese prison camp for over three years. Because he was able to speak Japanese, his captors assigned him to tell stories to preoccupy the laboring islanders imprisoned with him. Three times, he escaped and was captured again.
Following the war, he traveled on a cargo ship carrying copra to ports all over the world. His father's death took him back home in 1949, but soon he was off again. His passage to the New World was a high seas adventure: a 38-foot sailboat took him from Holland to Brazil. There, he made ends meet by giving sailing lessons at a yacht club.  
 Befriending an airline pilot and his wife from New England, Maris had been determined to reach the United States, "even if he had to walk," according to his wife. With his new friends' help, he landed in New Milford, Conn. He remarried and his formal education resumed. He earned a Bachelor's Degree from the Boston Museum School of Fine Arts through Tufts University, and a Master of Fine Arts degree from Syracuse University.
His work revealed a wide range in technique and approach. A painting of a Cape Cod harbor and a trompe l'oeil with a fly so realistic you can almost hear it buzz exemplify the attributes he noted in his early work: "very realistic and concerned with detail." Eventually, he said, he developed "much more feeling for the abstract," in which "the negative space is just as important as the positive," resulting in sharp contrasts. In one painting, you see a naked white figure amid blocky shapes, and then suddenly discern a seated man, the red legs of a woman in a sherbet-hued skirt, stark black vertical lines suggesting distant trees. He favored the bright colors of polymer paint, and used texture to involve the viewer in his work, even encouraging a visitor to touch.
Maris's artistic legacies include more than his own work. Past Westfield State University professor of art Bernard McMahon noted that the college's bachelor 's program in fine arts was established through Maris's efforts. "Many people are working in the fine arts field because of his foresight," McMahon said.  Maris said that he enjoyed teaching because of the "freedom" it allowed him.
During his lifetime he inspired many, he believed that art was an important element of life. The Gallery that bears his name is a tribute to a spirited artist and inspiring teacher.