Westfield State University's Maris Art Gallery to host 'Client Work: Graphic Design Student Art Show'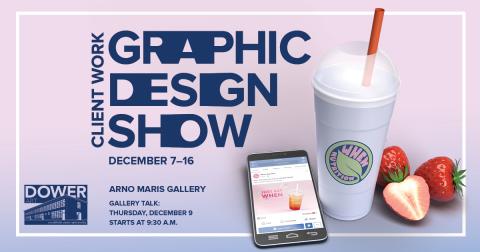 Westfield State University's Arno Maris Art Gallery will feature a new exhibit, "Client Work: Graphic Design Student Art Show," Dec. 7–16. This new exhibition is an interdisciplinary collaboration between this semester's Graphic Design II and Marketing Management students. A talk about the exhibit will be held Thursday, Dec. 9, at 9:30 a.m. in the gallery, located in Ely Campus Center, at 577 Western Ave.  
This semester, Anthony Furnelli, assistant professor of economics and management; and George Ramirez, assistant professor of art, united graphic design and marketing management students to collaborate on a project for each course that would simulate the design process and cross-functional teamwork that occurs in the professional realm when specialists from different disciplines work together to build a brand. 
The marketing students created a marketing strategy, including product positioning, targeting, etc., for a fictional market offering they developed. Meanwhile, the graphic design students developed a fictional brand's visual representation, such as a logo or app interface. The students scheduled meetings and worked through the collaboration process as a joint project team, learning valuable experiential skills from this high-impact practice. 
The exhibit and gallery talk are free and open to the public. Gallery hours: Tuesdays, Thursdays, & Fridays, 10 a.m. –2 p.m.; Wednesdays 11 a.m. –2 p.m.; and Saturdays by appointment. Contact flund@westfield.ma.edu. For more information, visit the Maris Art Gallery website. Masks are required to be worn indoors on the Westfield State campus, regardless of one's vaccination status.