The Westfield State Theatre Arts Program Open House, Saturday, October 14, 2023, is a chance to become acquainted with the Theatre Arts Program, its tracks of study, faculty, and students!
Spend the day touring our facilities and gaining hands-on experience through faculty-guided workshops in Performance, Design, and Technical Theatre.
The event is open to high school seniors, community college students, and non-traditional continuing education majors interested in Theatre.
A day in the life of a Theatre Arts Student:
Schedule of Events:
Saturday, October 14, 2023
10:00 a.m.—Welcome at Ely Studio Theatre, discussion of the Theatre Arts Program. Tracks of Study and upcoming Auditions/Interviews.
10:45 a.m.—Tour of Ely and Dower Theatre Arts Facilities
Noon—Lunch in the Dining Hall
12:45 p.m.—Q&A with current Theatre Arts Program Majors and Minors
1:30 p.m.—15-minute Break
1:45 p.m.—Workshops
3:00 p.m.—END of TAP Open House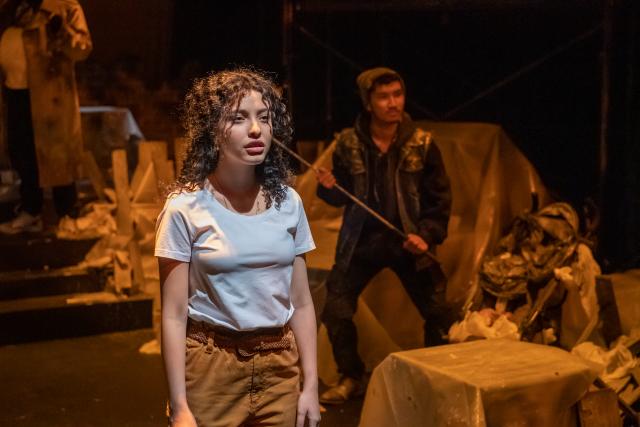 Afternoon Workshop Descriptions:
Acting Given Circumstances: By rehearsing short "blank" scenes, actors will examine the importance of making strong specific choices about context, and how "given circumstances" such as time, place, surroundings, character traits, relationships, and history contribute to theatrical storytelling.
Crafting with EVA Foam: Explore the possibilities of working with this highly accessible and versatile material and how it relates to Costumes and Props. Students will learn about the process and application of working with foam to create armor, weaponry, and other specialty pieces. Workshop participants will gain hands on experience by designing and building their own custom piece of wearable art in class.

Painting with Light: Students will explore the functions and controllable qualities of light. A demonstration will review the basic properties of conventional and intelligent theatrical lighting fixtures. The workshop will conclude with collaborative group projects that recreate the lighting from a master painters work.
Theatre Arts Program Faculty Bios:
Heather Crocker Aulenback (she/her/hers) is the Professor of Costume and Scenic Design in the Theatre Arts Program. She teaches Costume Design, Scenic Design, Scenography, Introduction to Theatre, Drawing and Rendering for the Stage, Make-Up and Mask Design and Application, Production Workshop, and is the Costume and Scenic Designer for the program's main stage shows. For over a decade she has actively designed for The Chester Theatre Company, and past credits have included work with Capital Repertory Company and New Century Theatre. Before joining the Westfield State Faculty, she served as lecturer and resident artist in costume and scenic design at The University of New Hampshire. She received her MFA in Costume Design in 2009 with a minor in Art History, from the University of Massachusetts, Amherst, where she holds multiple design credits and where she also received her BA in Theatre. In addition to her work in design, she has also trained as an actor and in 2002 worked as a voice over artist for Microsoft's MechWarrior 4: Mercenaries computer game. Professor Crocker Aulenback is also trained in scenic painting, make-up design and application, wig dressing, visual art, draping, millinery, crafting, fabric manipulation, and wardrobe. She enjoys spending time in the outdoors and escaping zombies with her husband and two children.
James McNamara (he, him, his) is the Professor of Lighting and Sound Design and Chair of the Theatre Arts Department at Westfield State University. He is also an Associate Artist/Designer at The Chester Theatre Company where he has designed since 2006 and an active Company Member at Shakespeare and Company in Lenox, MA. Professional design: LaMaMa ETC, Shakespeare and Company, Chester Theatre Company, Ancram Opera House, CompanyOne, Pilgrim Theater Company, Lost Nation Theatre, New Century Theatre, Strong Coffee Stage, New World Theater, Counter Productions Theatre Company, Vermont Commons Group, Sankofa Dance Project and World Myth and Music. While one of the Resident Lighting Directors at The Calvin Theatre in Northampton, MA, James had the privilege of providing designs for National Touring acts such as Lilly Tomlin, Steven Wright, The Bangles, The Nitty Gritty Dirt Band, Hot 8 Brass Band and The Gary Burton Quartet Featuring Pat Metheny. Assistant design: The Guthrie Theatre Center, The McCarter Theatre, Yale Repertory Theatre, The Clarence Brown Theatre and Bard SummerScape. James has designed productions or taught classes in the undergraduate programs at Yale University, Amherst College, Smith College, Franklin Pierce University and The University of Massachusetts, Amherst. James is an active member in good standing with IATSE Local 232 where he served as the Chair of The Board of Trustees from 2015-2017. James was the Co-Chair of Design, Technology and Management for the Region 1, Kennedy Center American College Theatre Festival from 2018-2020 and the Co-Vice Chair from 2015-2017. On occasion he creates music for productions as a percussionist while also playing the guitar, bass and mandolin. James received his MFA in Theatre Design from UMASS Amherst. Currently, James lives in Belchertown, MA with his wife and 2 children. They are avid campers and have visited 21 National Parks and counting.
Eric Parness (he/him/his) is a director, producer, actor, and playwright, serving as Assistant Professor of Acting and Directing at Westfield State University. He is also the Artistic Director of Resonance Ensemble, a critically acclaimed Off-Broadway theatre company dedicated to investigating classic theatre pieces and modern plays inspired by them. In addition to directing and/or producing more than 20 shows with Resonance Ensemble, Eric has directed extensively Off-Broadway for companies such as IATI Theatre, Rising Sun Performance Company, Jean Cocteau Rep, and Oberon Theatre Ensemble. Regionally, he has directed productions for the Blumenthal Center in Charlotte, NC, Curtain Call Theatre in Latham, NY, and The Home Made Theater in Saratoga Springs, NY. In addition to directing six productions at Westfield State University, Eric has also directed educational theatre for Dean College, Brooklyn College, Marist College, Stern College and Brandeis University. Eric is a graduate of Brandeis University (BA) and Brooklyn College (MFA), and a member of Lincoln Center Theater's Directors Lab.
Please register here for the Theatre Arts Open House by Friday, October 6, 2023