Use the power of music to improve lives.
As a music therapy major, you can prepare for an engaging career using the power of music to improve clients' lives. The music therapy program at Westfield combines specialized and versatile musicianship with cutting-edge research for real-world application in clinical music therapy.  
When you become a music therapy major, you'll fine-tune your musical skills with coursework in areas like singing, guitar and piano, digital music production, songwriting, and improvisation, alongside in-depth study of music history and music theory. At the same time, you'll learn the science and the art of applying your musical skill and knowledge to improve well-being through courses in music therapy, psychology, cultural studies, and health sciences. 
The degree program is designed to be completed in four years plus internship. If you are a transfer student or already have an associate degree in music, the music therapy bachelor's degree typically will take two years of full- or part-time study plus internship.
Music Therapy Equivalency Program
The music therapy equivalency program is designed for students who have already completed a bachelor's degree in another area, like psychology or music performance, and want to become a professional music therapist. This program provides you the opportunity to complete all the requirements for becoming a professional music therapist that you have not already completed in your prior degree. Every equivalency student has an individualized course of study tailored to their prior skills and knowledge, using your own unique background as a strength in becoming a board-certified music therapist. The equivalency program typically takes four semesters plus internship.
Program Highlights
Five mentored music therapy clinical training placements
Leads toward the national credential Music Therapist – Board-Certified
Equivalency program available to students with a bachelor's degree in another discipline
Transform your passion for music into a career as a board-certified music therapist.
Use your talents to make a real difference in the lives of others.
Join the growing field of music therapy
Only public institution in Massachusetts to offer music therapy 

Westfield State University's Bachelor of Music in Music Therapy is fully approved by the American Music Therapy Association and the National Association of Schools of Music. When you complete your music therapy degree, you'll be qualified to sit for the national board-certification exam for music therapists, thereby earning the professional credential Music Therapist – Board-Certified (MT-BC). 

Individualized program 

You'll become a flexible and adaptable musician. Your courses of study will be individualized to your unique background, skills, and interests. You'll have the opportunity to work closely with our music therapy faculty to ensure your music therapy bachelor's degree aligns with your musical interests and talent. Our class sizes are small enough to allow for one-on-one attention in most of our learning environments. 

Mentorship

Gain the confidence and experience you need. You'll benefit from the mentorship of professional music therapists as you work alongside them to provide music therapy to real clients in the community. This hands-on experience prepares you for success.
Program Details
Program Mission

We foster the development of professional musicianship as we inspire a broad-based intellectual spirit and a disposition toward lifelong learning.
Program Vision

To create and nurture an inclusive, innovative, and supportive musical community that engages students in a collaborative, responsive, and principled manner.
Learning Outcomes

Student Learning Outcomes

Demonstrate competence in the following for music therapy practice:

Clinical musicianship;
An understanding of music theory, composition, and arranging;
Basic knowledge of music history and repertories relevant to clinical music therapy;
Knowledge of therapeutic principles;
Applied therapeutic knowledge for clinical settings;
Knowledge of foundations and principles of music therapy;
Knowledge and application of the music therapy treatment process including assessment, treatment planning, therapy implementation, therapy evaluation, documentation, and discharge planning;
Knowledge of professional issues in music therapy including ethics, supervision, and administration;
Ability to synthesize knowledge and skills in clinical practice and through research literature;
Develop critical understandings of culture, race, and social location.
What can you do with a music therapy degree?
A music therapy bachelor's degree prepares you to work in a wide variety of settings, such as schools, hospitals, mental health and recovery clinics, physical rehabilitation, hospice, and palliative care, as well as nursing homes. You'll learn to apply your skills and talent to address physical, emotional, psychological, social, and educational needs.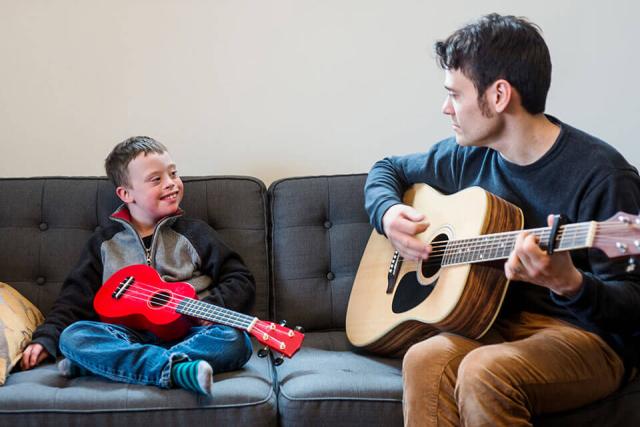 Course Requirements
Program Description

The Bachelor of Music in Music Therapy prepares students to become professional music therapists working in healthcare and special education. The interdisciplinary curriculum blends in-depth and broad-based clinical musicianship with health sciences, which students apply in extensive clinical fieldwork experiences. Students develop expertise in using music within a therapeutic relationship to improve physical, psychological, cognitive, and spiritual health and wellbeing with clients across their lifespan.

The program provides students the opportunity to develop professional competencies in music therapy and is designed to meet the accrediting and approval standards of the American Music Therapy Association (AMTA) and the National Association of Schools of Music (NASM). Upon successful completion of the degree, graduates are eligible to take the music therapy board certification exam to gain the credential Music Therapist - Board Certified (MT-BC).
Music Core - 24 Credits
Clinical Musicianship - 21 Credits
Ensemble Performances - 4 Credits

Four semesters of participation in a primary ensemble, and two semesters of participation in a secondary ensemble, as assigned by the department. Intended to run concurrently with semesters of Applied Music.

Primary Ensemble Performance - 2 Credits

Four semesters of the following as assigned by the department:

Secondary Ensemble Performance - 2 credits

Two semesters from the following list as assigned by the department:

Two semesters of MUSC 0240 Chamber Ensemble for performance of contemporary popular styles, as assigned by music therapy faculty.
Applied Music - 8 Credits

Music Therapy majors are required to complete four semesters of applied music. Applied music study requires a jury examination every semester. Students taking applied music must also register each semester for MUSC 0279 - Recital Attendance and Performance.
Music Therapy - 17 Credits
Music Therapy Clinical Fieldwork - 5 Credits

All Music Therapy students complete five (5) semesters of supervised clinical fieldwork: four (4) semesters of Clinical Music Therapy Practicum, followed by one (1) semester of Clinical Capstone in Music Therapy. Students must enroll in Music Therapy Practicum Seminar concurrent with each of their four semesters of Clinical Music Therapy Practicum. After completing all other coursework required for the degree, students enroll in Internship in Music Therapy, completing a required 1,010-hr internship at an approved internship site.
Clinical Foundations - 22 Credits
Additional Graduation Requirements
Get big school features with small school advantages.  
We offer high-quality academics, unique learning opportunities, and a gorgeous campus—and we have small classes, accessible faculty, and one-on-one support. 
You'll join fellow motivated students ready to make the most of the college experience through active participation. Become part of a caring and committed community that understands and embraces the bridge between academic study and civic responsibility.
84%

of grads are employed in their field
Talented and experienced faculty
Our music therapy faculty includes experienced board-certified music therapists and musicians who use their knowledge of music therapy and passion for teaching to create a dynamic and supportive learning community. Dedicated to mentoring students, our faculty provide the background, training, and support you need to work as a professional music therapist, as well as prepare you with knowledge and skills to prepare you for further studies in graduate school.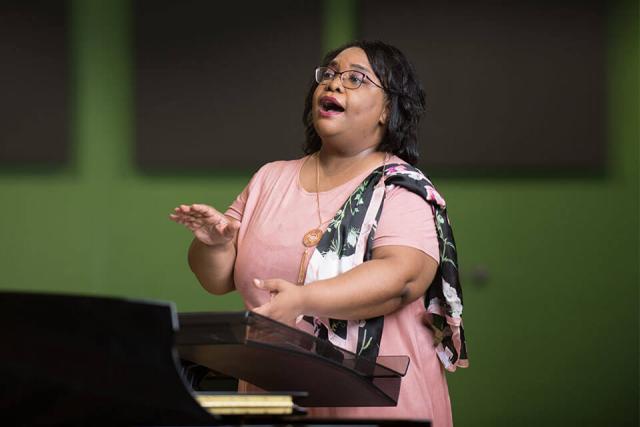 Frequently Asked Questions
Do I have to submit SAT/ACT scores or an essay when I apply?

Westfield State University does not require an application essay, SAT and/or ACT scores, or letters of recommendation (except for special program admissions).     

All first-year applicants are reviewed for admission based on their high school record. First-year applicants must meet the minimum eligibility requirements established by the Massachusetts Department of Higher Education (DHE) in order to qualify for admission to a state university.   

Learn more about the application process and admissions here.
How much does Westfield State University cost?

Westfield State University offers a comprehensive university experience at an affordable cost—with many options for financial aid. Visit our Cost and Aid page to learn more. 
Will I receive academic support?

We're invested in your success. Whether you need a little help adjusting to college, study strategies, tutoring, or disability services, the team at the Academic Achievement Department is ready to help. Our mission is to provide you with the tools to explore academic opportunities as well as to plot strategies for continued growth. 

Learn more about our student support services here.
Request Information
We're here to answer your questions and deliver the support you need along your academic journey. Please provide your contact information and area of interest, and we'll be in touch shortly.