Nursing Transfer Applicants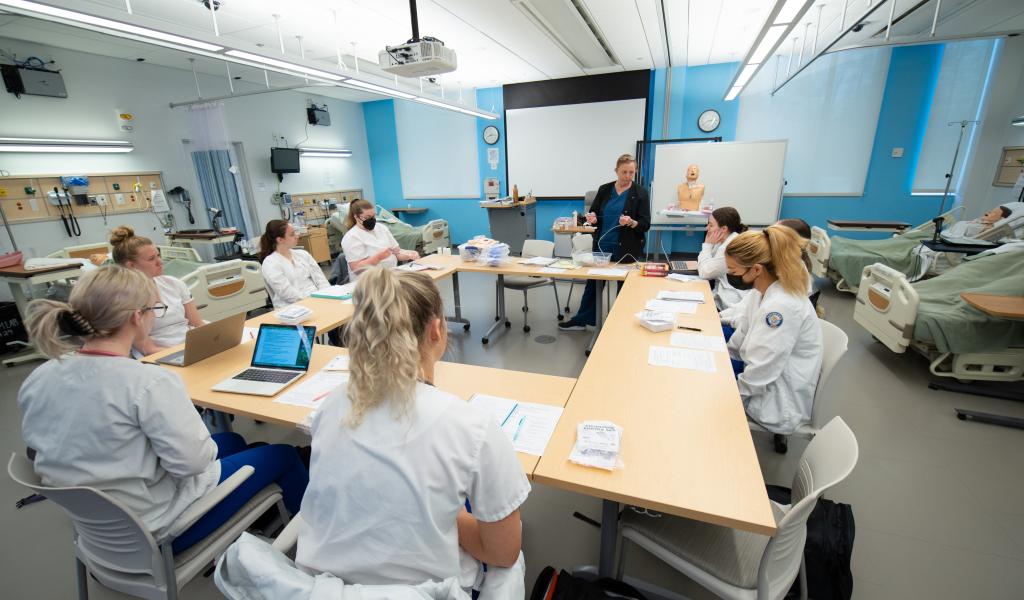 The Nursing Program accepts a limited number of Transfer students into the program each year.  Below outlines the process for admission to the Nursing Program.
For students with an Associate's Degree in Nursing and RN license, please apply through the RN-to-BSN program.
About the Nursing Program
The Nursing Program at Westfield State is a 4 year, full-time Nursing Program.  Students transferring into the Nursing Program should expect that it will take the full four years in order to complete the Nursing Program at Westfield (regardless of the number of credits previously attained).
All courses for the Nursing Program are offered during the day, Monday through Friday, on campus; there are no evening or weekend courses offered.  Clinical rotations mostly occur during the week, but there may be weekend and evenings placements made.  Students are not able to request placements; all clinical placements are assigned by the Nursing Department.
A minimum of 10 spots will be open each year for Transfer students (including internal transfers).  In the event more seats are available, additional offers to join the program will be made.
Entry into the Program
Students are only able to enroll in the Fall semester (Spring semester entry is not allowed).  Students will enter the program with the incoming First-Year cohort. 
If space permits, students may enter into the Sophomore cohort.  Applicants must have completed all of the prerequisite nursing courses from a regionally accredited college to be considered for entry into the Sophomore cohort:
General Courses
English Composition

Introduction to Psychology

Introduction to Sociology
Science Courses
Anatomy & Physiology I

Anatomy & Physiology II

Chemistry (must be equivalent to WSU Chemistry for Life Sciences)

Microbiology
Science courses must have been completed within the past five (5) years.
Prerequisites are not required to be considered for admission, only for entry into the Sophomore cohort.
Application Deadline
The application deadline for the Nursing Program is February 1st.  All materials must be received by February 1st – no exceptions!
Applying to the Nursing Program
Students who have earned or will have earned fewer than 24 credits should apply as a Full-Time Day Student
Students who have earned or will have earned 24 or more credits (including those with a previously attained degree) should apply as a Continuing Education Student
Admission Criteria
Students must meet all criteria in order to be considered for the admission to the Nursing program:
Cumulative GPA of 3.0 (calculated by the Admission Office) or higher

Any Nursing prerequisite course must be completed with a grade of C+ or better.

TEAS 6.0 or 7.0 score of 70%, with a "proficient" score in each category

Students must have taken the TEAS within the past two (2) years

For more information on the TEAS exam, and to register, please visit 

https://atitesting.com/teas

NOTE: the TEAS requirement can be waived if students meet the following criteria:

Students have completed the 4 science prerequisite courses listed above with a grade of C or better, OR

Students have

 completed at least 2 of the 4 science prerequisite courses listed above with a C grade or better AND

Are in progress on the 2 additional courses (must earn C or better upon completion of the course.

Students should reach out to the Admission Office to see if they qualify for the waiver.  Waivers will only be awarded if an official transcript has been received, with any courses in progress listed.

High School Transcript or GED

Personal Statement
Students who are currently working in a healthcare setting may submit a Healthcare Employment Experience form to be considered as part of their application.
PLEASE NOTE: Meeting the minimum criteria does not guarantee admission to the Nursing Program.  For a better understanding of how applicants are reviewed, please see our Nursing Transfer Rubric
A maximum of 90 credits will be accepted in transfer from any four year college, or 79 credits from any community college.  Students applying as a Second Bachelor's candidate will work directly with the Continuing Education Office to ensure their credits are properly aligned.
Additional Requirements
Prior to enrolling in the program, students will need to submit the following items:
Immunization Records

CORI
Students who fail to submit full immunization records or successfully complete a CORI will not be allowed to enroll in the Nursing Program.