Department of Public Safety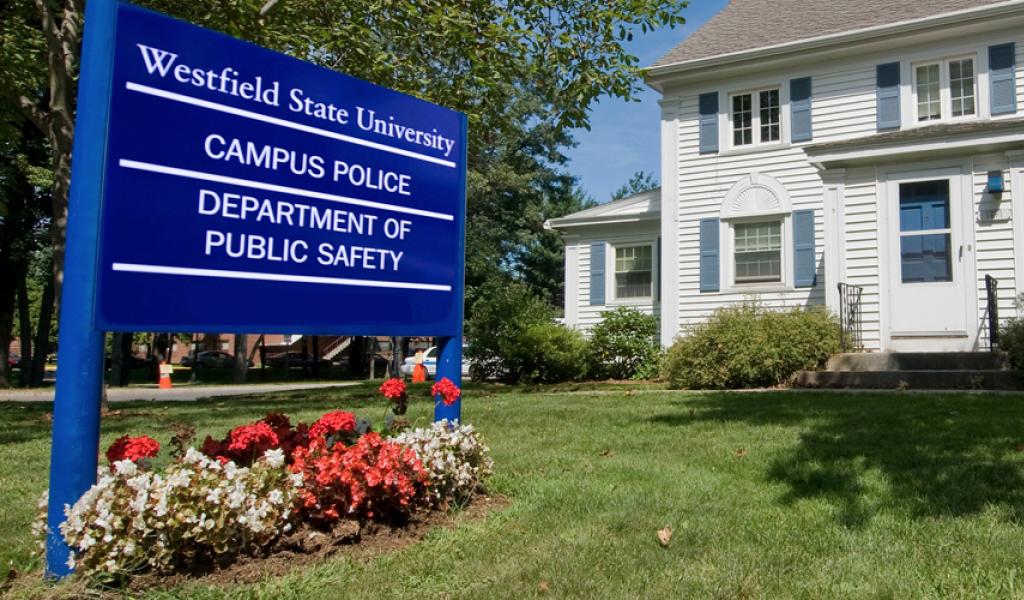 Sign Up for Emergency Alerts
In case of an emergency, you will receive a voicemail, email and text message.
Report a Crime
Call Campus Police at 413-572-5262
Fill out the Report a Crime form (can be anonymous)
About the Department
The Westfield State University Department of Public Safety works to ensure a peaceful quality of life, establish a partnership with the community, and support a safe learning environment through fair and impartial policing practices.
The Westfield State University Department of Public Safety/University Police, is responsible for the enforcement of the Massachusetts General Laws and for protecting life and property on the Westfield State University Campus. University police officers have the power of arrest in the Commonwealth and are Special State Police with full police powers. The Department is charged with the responsibility of protecting the rights of all members of the academic community to learn, to teach, and to conduct normal and necessary business of the institution.
The department is a division of SEED (Student Enrollment, Engagement and Development) at Westfield State University and is headed by Director/Chief Tony Casciano.
Employment
Interested in working for Westfield in public safety? Full and part-time positions are available, including positions for students.
Student Threat Assessment Team (STAT)
This team is responsible for receiving and reviewing reports of potentially threatening, violent or alarming behaviors by any student of the University. To meet with the team or to report a concern, please contact the Dean of Students Office at 413-572-5425/5421.
Contact Us
Department of Public Safety/University Police
Public Safety Complex, White House
577 Western Ave
Westfield, MA 01086
Public Safety Staff
EMERGENCIES: 911
Non-Emergencies:
Dial X5262 on campus or (413) 572-5262 off-campus
Fax: (413) 572-5496

Hours of Operation
Dispatchers are on duty 24 hours a day.
General: M-F, 8:00am-4:00pm
Other important numbers:
WSU Health Services: (413) 572-5415
Westfield Police Department: (413) 562-5411
Westfield Fire Department: (413) 562-2329
Baystate Noble Hospital: (413) 568-2811
Massachusetts State Police, Russell: (413) 862-3312
Poison Control Center: (800) 962-1253