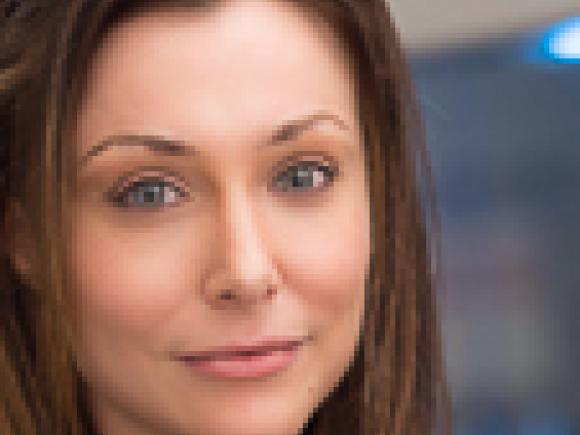 Joined Westfield State University in 2016
"The greatest scientists in history are great precisely because they broke with the consensus. There is no such thing as consensus science. If it's consensus, it isn't science. If it's science, it isn't consensus. Period." - Michael Crichton, author
Education:
B.S., Microbiology, University of New Hampshire, Durham, N.H.
 
Ph.D., Biomedical Sciences: Immunology and Infectious Disease, Albany Medical College, Albany, N.Y.
Specialization:
Viral Immunology and Product/Pharmaceutical Development
Dr. Porter was previously a Program Officer/Health Science Administrator at the National Institute of Allergy and Infectious Disease (NIAID) at the National Institutes of Health (NIH). Dr. Porter worked towards funding, program management and oversight of cutting edge science. Specifically, pre-clinical and clinical development of non-vaccine HIV prevention products. Collectively, Dr. Porter has a combined 15 years of work in the fields of HIV Virology and Cellular and Molecular Immunology; and is a subject matter expert in these fields as well as Women's Health, Product Development and Federal Research Funding. 
Dr. Porter has worked with the world's leading scientists and community advocates in an effort to end the HIV pandemic. In that capacity, she has published in a number of high-impact journals, contributed to experimental guidances as a subject matter expert, established research priorities and drafted numerous federal notices for funding all involving Women's Health, Immunology and HIV prevention. Dr. Porter has also served as a reviewer for a number of scientific journals, institutional grant committees and NASA.
Additionally, Dr. Porter gives subject matter expert workshops and lectures, across the country, on NIH research funding strategies and pharmaceutical development. 
Teaching:
What most of my students would say: I am considered tough, but fair. My goal: not only to give you the knowledge and tools to succeed in your scientific careers, but to ensure that you walk out into the world understanding that in science, nothing is ever definitive. See quote above. 
Courses Taught: 
Biotechnology Based Courses: Drugs: Start to Finish, Research Methods: in Biotechnology (GMP manufacturing of a  Biologic), Biotechnology Seminar                                                                                
Upper Level Courses: Immunology and Medical Microbiology 
Introductory Courses: Introduction to Molecular and Cellular Biology and Lab, Introductory Seminar, BIOLO104 (online)
 
Dr. Porter has mentored over 20 research students (high school, undergraduate, post-baccalaureate, graduate and medical students), and taught numerous undergraduate, online and graduate courses
Research:
Scientific Expertise: Dr. Porter has more than 15 years of research experience in Immunology/Infectious Disease. Including research and publications in the fields of Microbial Genetics, Molecular and Cellular Immunology, HIV Virology, Vaccine development, Cellular Biology and Inflammatory Diseases. Dr. Porter is also an S.M.E. in pharmaceutical and product development. 
Current Research: Dr. Porter's current research focuses on studying Immune-mediated wound healing of the Female Reproductive Tract (FRT) following trauma due to disease or sexual assault. Also, we aim to fill the knowledge gap in the HIV field as to how the intersection of stress, violence and the immune system impacts HIV susceptibility.
Additionally, we have received a $750,000- award by the Massachusetts Life Sciences Center, in collaboration with IOMICS Intelligent Analytics to develop a bioanalytics platform that will help physicians deliver personalized treatment plans for women following trauma to the FRT. 
Student Research: The Effects of Tattoo Ink on Macrophage Survival and Function During Dermal Wound Healing. 
Current Funding:
Massachusetts Life Science Center Capital Program: Women's Health 2020- 2023 
Award: $750,000
Title: Predictive modeling to create 'bioprofiles' for use in  personalized medicine in women's health.
Westfield State University: Faculty Facilitation Award 2020 
Award: $1400       
Title: The effect of Tattoo ink on Immune-mediated wound healing.
Previous Funding: 
National Institutes of Health, National Institute of Allergy and Infectious Disease: F32AI100473-01, National  Research Service Award,  2012-2015 
Award: $155,346 
Title: POP2 regulation of NF-kB –dependent inflammatory responses.
Massachusetts Life Science Center: Capital Program, 2016  
Award: $75,000
Westfield State University: Faculty Facilitation Award 2019
Award: $1500 
Title: The impact of stress on the Immune System of the Female
Reproductive Tract and Subsequent Wound Healing following Sexual Violence.
Publications
1. Porter, K.A.*, Mattos-Graner, R.O*, Smith, D.J., Hosogi, Y., and M. J. Duncan (*co-authorship). Functional Analysis of Glucan Binding Protein B from Streptococcus mutans. J. Bacteriology. 2006. 188: 3813-3825. *co-first authors
2. Banas, J.A., Miller, J.D., Fuschino, E.F., Hazlett, K.R.O., Toyofuku, W., Porter, K.A., Reutzel, S.B., Florczyk, M.A., McDonough, K.A. and S.M. Michalek. Evidence that Accumulation of Mutants in a Biofilm Reflects Natural Selection Rather than Stress-Induced Adaptive Mutation. Appl. Environ. Microbiol. 2007. 73: 357-361.
3. Petti, L.M., Ricciardi, E.C., Page, H.J., and K.A. Porter. Transforming signals resulting from sustained activation of the PDGFβ receptor in mortal human fibroblasts. J of Cell Science. 2008. 121: 1172-1182.
4. Porter, K.A., Kelley, L.N., George, A., Harton, J.A. and K.M. Duus. Class II Transactivator (CIITA) Enhances Cytoplasmic Processing of HIV-1 Pr55Gag. PLOS One. 2010. 5(6): p. e11304.
5. Porter, K.A., Kelley, L.N., Nekorchuk, M. D., de Noronha, C. M. C., Harton, J.A. and K.M. Duus. CIITA enhances HIV-1 attachment to CD4+ T cells leading to enhanced infection and cell depletion. Error! Hyperlink reference not valid. 2010 Dec 1;185(11):6480-8.
6. Iglesias, B., Bitsaktsis, C., Pham, G., Drake, J.R., Hazlett, K.R.O., Porter, K. and Gosselin, E.J. Multiple mechanisms mediate enhanced immunity generated by mAb-inactivated F.tularensis immunogen. Nature: Immunology and Cell Biology. Feb 2013; 91(2): 139-148.
7. Porter, K.A., Duffy, E.B., Nyland, P., Atianand, M.K., Sharifi, H. and J.A. Harton. The CLRX.1/NOD24 (NLRP2P) pseudogene codes a functional negative regulator of NF-κB, pyrin-only protein 4. Nature: Genes and Immunity 2014 May 29.
8. Kristen A. Porter, Jim Turpin, Lisa Begg, Gina Brown, Nahida Chakhtoura, Elizabeth Church, Cynthia Grossman, Charles Wira, and Fulvia Veronese. Understanding the Intersection of Young Age, Mucosal Injury, and HIV Susceptibility. AIDS RESEARCH AND HUMAN RETROVIRUSES Volume 32, Number 10/11, 2016.
9. Contributor: Capturing Participant Data for Mucosal Sample Interpretation: A Guide for HIV Investigators, 2nd ed. Global HIV Vaccine Enterprise. 2016 (timelytopics@vaccineenterprise.org)
10. Porter, K.A.*, Periasamy, S.*, Atianand, M.K., Le, H.T, Earley, S. Duffy, E.B., Haller, M.C. and J.A. Harton. Pyrin-only Protein 2 (POP2) tempers inflammation and balances protective immunity. Nature: Communications. 5. June 2017.
11. Singh, A. and Porter, K.A. Proceedings of the NIAID sponsored, 2015 Inflammation and HIV Susceptibility workshop. American Association of Immunologists. In preparation.
12. Buckner, A., Goyette, M.T., Petersen, J., Lucey, E. Petti, L.M. Sharifi, H.J. and K.A. Porter. THP-1-culture conditions: Subtypes and their role in wound closure: modeling for wound repair and HIV infection following sexual trauma. In preparation
13. Buckner, A. and K.A. Porter. The Impact of tattoo ink on Immune Function and Dermal Wound Healing. In preparation