Located on the edge of the Berkshire Mountains, Westfield State offers an exceptional opportunity to learn environmental science through hands-on field work. 
Students enter the major and develop as a cohort, so you become very connected to your classmates
We have highly credentialed faculty, including an expert wildlife biologist and president of the wildlife society, ecological restoration professional, researcher studying tropical forest restoration, dam removal expert, and more
Our Natural History and Field Techniques course is taught almost entirely outside
Our students are passionate about the environment
Science-based major offering many more science classes than similar programs
Students are encouraged to conduct research and present their findings at local, regional and national conferences
The Massachusetts Department of Ecological Restoration is located on campus and many student work with them on projects
Study abroad

opportunities in Costa Rica and Ecuador 
Requirements
Program Description

The Environmental Science Major consists 53-68 credits, depending on advising and the interests of the student. Courses denoted with an asterisk (*) also satisfy the University's Common Core requirements. All students must take at least 21 credit hours from the list below at Westfield State University. A minimum grade point average of 2.7 in the Environmental Science major is required to be eligible to graduate with a degree in Environmental Science.
Required Environmental Science Courses (26-28 credits)
Required Fundamental Lab Science Classes (15-16 credits)
Areas of Study - Dimensions
Upper-Level Course Requirements

Pick at least 2 courses from the following list. Please note that these may also be used to satisfy other requirements in the major.
Capstone Senior Thesis/Seminar

Senior status is required.
Additional Graduation Requirements
Learning Outcomes
Understand fundamental ecological concepts such as cycles, systems, ecosystems, food webs, biodiversity, trophic levels, energy flow in ecosystems, sustainability, etc.
Have a basic knowledge of environmental issues such as resource consumption, water use, energy, climate change, species population trends, the tradeoffs between human development and the environment, etc.
Have advanced knowledge in an area of their choice (ex. GIS, Wildlife Conservation, etc.)
Have a basic understanding of the relationships between developing and developed countries and their effects on the environment and each other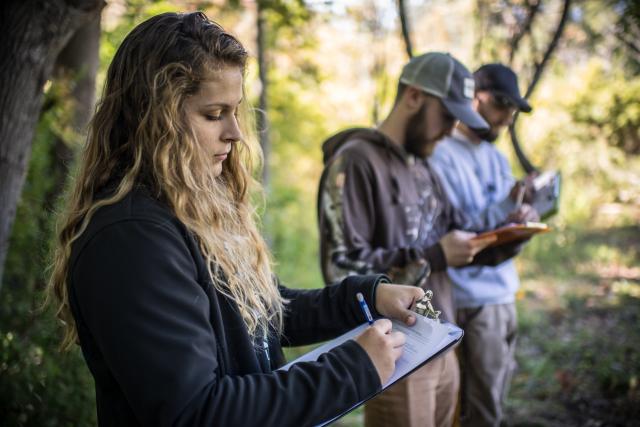 Related Clubs & Organizations
Environmental Planning Club

The Environmental Planning Club encourages members to enrich the environment.