We work as counselors, clinical therapists, case managers, child protective workers, administrators, and community organizers.
BSW and MSW students complete hands-on practicum experiences in social work agencies as part of their degree program. BSW students complete a 400 hour practicum and MSW students complete two practica totaling 900 hours at a wide variety of agencies in the geographic region.
Both the undergraduate BSW degree and the graduate MSW degree are accredited by the Council on Social Work Education (CSWE) and prepare students to enter the field as professional social workers. CSWE accreditation makes BSW graduates eligible for state licensure at the LSW level and for advanced standing in Master of Social Work degree programs nationwide. MSW  graduates are immediately eligible for licensure as social workers at the graduate level (LCSW in MA) and ultimates for the advanced clinical license (LICSW in MA).
Over 95 percent of our BSW graduates are accepted at graduate schools or find employment in their field within one year of graduation. MSW graduate post placement rates are above 95% for our graduates to be working in the field within 1 year of receiving their MSW.
RANKED  #1 10 TOP NEW ENGLAND REGION SCHOOLS FOR A BACHELOR'S IN SOCIAL WORK (COLLEGE FACTUAL)
Contact us
Dr. Rose Sullivan, PhD, LICSW
Chair - Social Work Department
Westfield State University's Social Work, B.S.W. and Master's Social Work, M.S.W. academic programs are accredited by the Council on Social Work Education's Board of Accreditation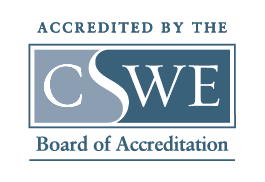 Accreditation of a baccalaureate or master's social work program by the Council on Social Work Education's Board of Accreditation indicates that it meets or exceeds criteria for the assessment of program quality evaluated through a peer review process.  An accredited program has sufficient resources to meet its mission and goals and the Board of Accreditation has verified that it demonstrates compliance with all sections of the Educational Policy and Accreditation Standards. 
Accreditation applies to all program sites and program delivery methods of an accredited program. Accreditation provides reasonable assurance about the quality of the program and the competence of students graduating from the program.
Mission
The Department of Social Work at Westfield State University sees its mission influenced by our professional identification and our context. We are first and foremost social workers who are training future social workers. We also are members of the WSU Community and community members of our local region and the Commonwealth of Massachusetts.
Our mission is influenced and designed based on all of these influences. Our mission, primarily, is to prepare BSW and MSW level social workers who are ready to practice in a diverse and rapidly changing world. This preparation includes working with students to develop a knowledge base for practice, the skills needed for practice and a clear understanding of the professions value and ethics and how they apply to practice. This also includes helping students to develop the critical thinking skills, technology skills, affective skills, and judgment to be effective practitioners.
Beyond preparing social workers for practice, we see our mission as being active and constructive members of our community. This includes being involved in campus life and governance at WSU. This also includes building positive relationships with area and state agencies for the benefit of the agencies, their clients, the citizens of the Commonwealth, our institution, and our students.