Portfolio Review:
If you've requested admission to the Art Major on your application form, applicants must successfully pass a portfolio review by the Art Department's faculty.
The Art Department
The visual arts programs at Westfield State University incorporates a curriculum consistent with C.A.A. guidelines through the exploration of traditional and emerging mediums. The Art Department offers a BA in Art with areas of concentration in Graphic Design, Illustration, Animation, Art History, Visual Arts Education Licensure (Prek-8 and 5-12), Art Therapy Preparation, and Fine Arts, comprised of Painting, Printmaking, and Sculpture. The Department also offers five minors in Art History, Art, Fine Art, Graphic Design, and Animation.  In addition to these undgraduate programs, the department offers a Post-BaccalaureateTeacher Visual Art Licensure Program in Prek-8 and 5-12.  Each concentration's and minor's objectives are to develop technical knowledge and expertise appropriate to each discipline.  All concentrations share a common Art Major foundation program that lead into the concentration specializations in the final two years of study. This foundation program is of critical significance as it provides each student a comprehensive background in color, form, structure and design.  Additionally, our students have the opportunity to participate in professional internships, capstone and thesis classes, the Graphic Design and Fine Arts Clubs, the creation of the department's DART journal, the Theta Lambda Chapter of Kappa Pi, and the Annual Student Art Exhibition.  The Art Department's Mission Statement and Department Outcomes reflect these ideas and concepts.
The art studios in The Catherine Dower Center for Performing and Fine Arts are open to all art majors, minors and students that are taking art classes for all of their studio-related projects.  All courses are open to the university's students who meet the proper prerequisites of each class. The professors at Westfield State encourages student experimentation and independence of thought in a creative environment.  Due to our comfortable studio and lecture class size, you'll have the advantage of working one on one with these professors who are professional practitioners in their fields of study.  Trips to regional museums and galleries are a regular part of the department's art classes along with presentations and workshops with regional and national visiting artist.
Contact us
David Shapleigh
Chair - Art Department
Academic Programs
Post-Baccalaureate Licensure
Faculty Spotlight
George Ramirez has been working as a professional graphic designer since 1998. He is an alumn of the Urban Education program and Art Department, continuing his dedication to the University as Assistant Professor of Animation and Graphic Design. Professor Ramirez believes that anyone can teach the mechanics of their specialty, but being a professor is a fully engaging experience. He appreciates the process of creative expression and customization, as opposed to the assemblage of widgets typically seen in graphic design pedagogy. In today's industry, one must have a working knowledge of all facets of design, so he brings digital and 3D technology into his curriculums and professional practices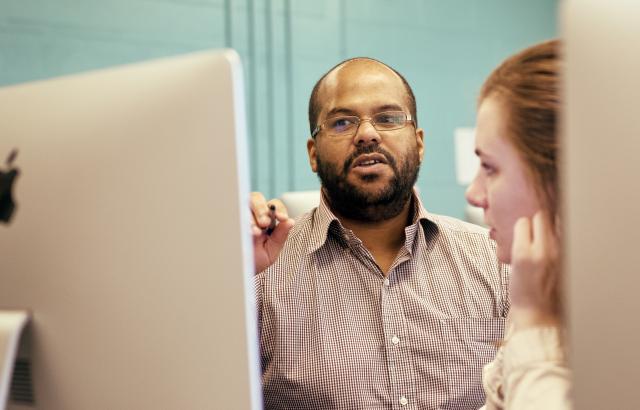 Mission
The Visual Arts Program is designed to develop the creative ability of students to enter professional visual arts careers. The curriculum fosters their aesthetic and historical knowledge of the visual arts.
We provide a comprehensive background in the visual arts program with an emphasis on both foundation and advanced studio courses. Students are oriented towards a career in graphic design, illustration, animation, studio art, and art history or preparation for continued study at the graduate level.
The department's professional visual arts program, as structured within the liberal arts, enables the student to receive personal attention in a small classroom instruction. Our goal is to encourage students to build an appropriate pathway for internships and future career opportunities.
Vision
To become a preeminent public visual art institution in Western Massachusetts that is accessible to all students in New England and eastern New York.
The Art Department of Westfield State University will be recognized for its academic excellence and engaged scholarship.  The University will graduate well–rounded critical and creative thinkers and leaders able to embrace the challenges and opportunities ahead, effectively communicate and contribute to their fields, and engage with and improve their communities. Students will acquire knowledge and discipline through multiple forms of learning, including experiential education, thesis and capstone projects, community engagement, and faculty-led scholarship.  
The department strives to function as a collaborative of engaged students and faculty committed to creative activity in every aspect of the visual arts and design disciplines. Our curricula promote inquiry-based learning, encourage risk-taking and independent thinking, nurture one's artistic expression, and pursue opportunities to improve the environment in which we live.
The Art Department will be supported with modern facilities, industry standard equipment, information technology, experienced faculty, and funding to support student and program needs.